When I was a teenager, my dad used to fly a lot for work. So much so that he was a member of the Qantas Club.
I remember a few times when mum and I went along to see him off, and we'd leave the general hubbub of the airport for the cool, quiet and somehow sophisticated environs of the QC. We didn't have much fanciness in our life, so it was always pretty special. I mean, free food – could it get any better than that?
One visit, I wandered over to the breakfast buffet and saw this creamy, slightly lumpy stuff… I had absolutely no idea what is was, but I thought I'd give it a try. Man oh man, was it delicious!
Being a very non-food-savvy kid, I promptly assumed it was something fancy that didn't exist in everyday life, and forgot about it. However, I did search it out every time we went to the Qantas Club afterwards!
It was only when I grew up that I somehow stumbled across it again (I don't remember where, because there is no longer a QC in my life!) and learnt that the delicious thing I ate as a kid was Bircher Muesli.
Well – one rather over-sugared version of Bircher Muesli. I subsequently read all about Max Bircher-Benner and the history of this fascinating dish. He used it extensively in his Zurich sanatorium during the late 19th century as part of a diet rich in fruits and vegetables to cure many people who were suffering from ill health brought on by the dietary horrors of that time (basically, eating meat, potatoes and white flour WAY too much).
He was a pioneer of the importance of diet to health – something that is still dismally overlooked in medicine to this day – and he was ridiculed for it at the time, too.
So. I have great respect for the man (though I don't agree with all of his dietary principles), and great love for this particular dish, too!
There are endless versions of Bircher muesli out there – a wide spectrum of healthy to perhaps not-so-healthy. Today, I'm going to share my personal Bircher recipe – one that harks back to the creamy and tasty goodness that first exploded onto my tastebuds 20 years ago.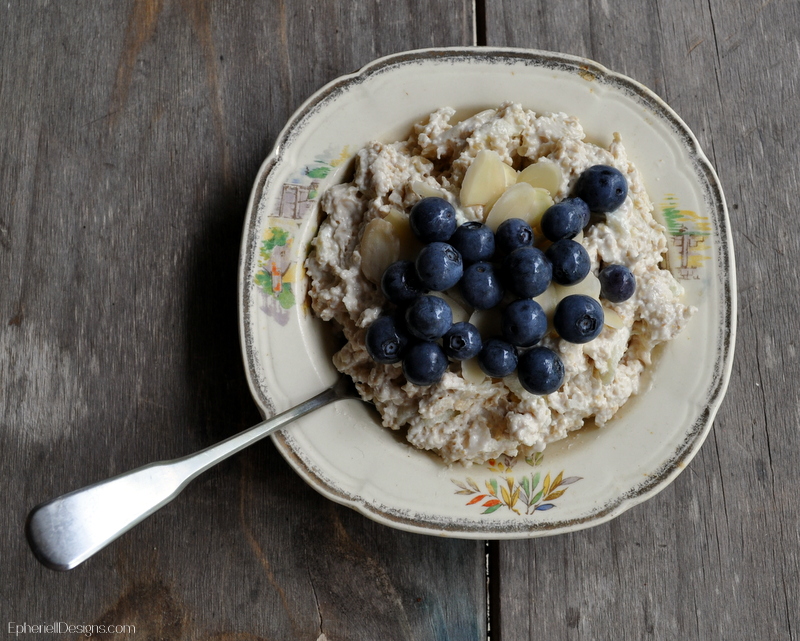 Ingredients
Oats (not the quick type)

Almonds – slivered
Apple – Granny Smith
Cinnamon
Greek Yoghurt – unsweetened/unflavoured
Honey
Orange juice (or lemon juice if you want it to have a little more 'bite') – freshly squeezed
Blueberries to serve
Method
Notice I didn't give you any measurements? That's because I prefer to make this by feel.
This is best if made the night before and left in the fridge overnight to settle together.
Place oats in a bowl and add in the slivered almonds.
Add a few big dollops of yoghurt, and drizzle over honey.
Grate the apple on top.
Pour the orange or lemon juice over the grated apple.
Add a pinch of cinnamon to taste.
Mix the whole lot together.
Add more of any of the above ingredients until you're happy with the taste and consistency. Remember, it will thicken once it's been in the fridge.
When you serve it, pop a few extra slivered almonds on top, and a generous handful of blueberries.
Enjoy the taste sensation, and thank Past You for being clever enough to make this for Present You!
 I'm curious… do you have a 'first encounter with a particular food' memory that's as vivid as mine? I'd love to hear it!