Today we have the final guest post from July's Special Guest Blogger Elle Roberts of the Creative Business Co. Elle is passionate about the importance of business planning – something so many of us kinda leave to fall by the wayside. See the previous posts here, here, and here.
The true value of a good business plan is that it removes the ambiguity about what is the next step to take. We often have a vague idea of the end goal but haven't worked out what that means we need to be doing today.
Before I go any further lets quickly recap the 5 questions I want you to ask yourself to get you thinking about business planning.
Why are you in business?
What tasks do you perform in your day to day business that get you "crazy" excited?
How much money do you need to live the life you want?
What does your ideal business look like?
What are five things you can do this month to move towards your goal?
Now what?
Now you should be seeing the big vision for your business, sure it is good to write a budget, have a marketing strategy and think about your unique selling point. In fact all of this is vital if you want your business to reach its full potential and be the success you know you can be.
There is no sense however in letting that stuff to scare you off all together. Business Planning is really about getting clear on where you are trying to go.
Like so many things in life it will come naturally to some and be hard work for others, but it can be learnt, practiced and adapted to suit your own style.
If you want to sit on the floor with butcher paper and markers go for it. I have a vision board with magazine cut outs, little drawings and even some paint. I have a more formal plan but I refer to the vision board more regularly and it helps me get unstuck.
The point is to; start somewhere.
Start somewhere comfortable; and this might be as simple as, How many hours do I need, kid free, to reach my sales goal this month?
Once you have identified the answers to some questions like this you can put strategies in place to make it happen.
PRACTICE PRACTICE PRACTICE
Keep setting aside time to think about the business and plan, set time frames if that helps and just plan for the coming month or quarter.
Once you start seeing the results of writing things down you will want to do more of it. That's when you can start looking at the more formal business questions. You may even find they are fun to answer!
Relax, keep it simple and start somewhere.
Let me know how you go, say hi on twitter and tell me what questions you have asked yourself.
I hope you have fun with it and I wish you and your business all the success in the world; whatever that may look like you to!
***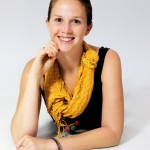 Elle is the marketing maven behind the Creative Business Co. where she educates creatives in the art of business.
She's running the Artful Business Conference in Brisbane on September 5th and 6th, featuring Tara Gentile, Megan Auman, Jennifer Lee, Jess Van Den, Lisa Walsh, and Russel Allert – get your tickets here!