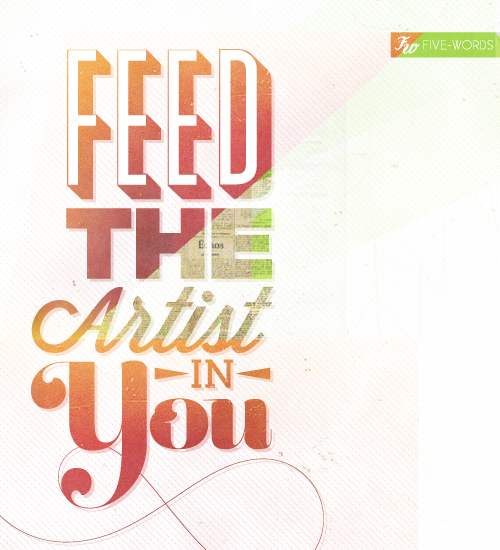 I have a typography/graphic design crush. Actually, it's more like a severe case of envy! Oh how I wish I knew how to make type look so damn good.
The culprits are the girls behind Five Words – the brainchild of two ladies "with too many ideas and no spare time."
The idea of the site is simple – take a 5-word phrase and turn it into a beautiful piece of typography – every day. Considering there are 72 pages on their blog (with 7 posts to a page) it seems like they're making progress! I had to stop myself at about page 30, or I would have literally sat and flicked through every single page to uncover the gems they have created.
I simply couldn't choose just ONE piece to show you… so here are my favourites (so far…).
P.S. I've installed a new plugin that should mean a Pin It button shows up next to each image OR if you've landed on the main blog homepage, just mouse over an image to pin it!
Awesome, right? I want to print them all out and stick them all over my wall!
Happy Friday night/long weekend to you all – what are you up to this weekend? I have a lovely mountain of jewellery orders to get through, and then I think my studio is in dire need of a re-organise – I tend to let things explode around me when I'm busy!
***
Want more Epheriell-y goodness? Subscribe to Epheriell Designs! Also, you can follow me on  Twitter!