Yesterday was one of our 'bulk cooking' days. And when I say 'our', I really mean 'Nick's'.
Because there's just the two of us, Nick will often cook meals in bulk and freeze the extra. That way, he only ends up cooking once for what usually ends up being at least four meals for both of us. Once in a while the freezer fills up to the stage where he has a cooking-free week as we work our way through the stock!
Today I thought I'd share his bolognaise recipe (or bolognese if you prefer).
This time round, we were lucky enough to have a glut of home-grown cherry tomatoes that had built up in the garden while we were away. Nick began by roasting these in a low oven for a few hours with garlic and onion. He says just roast them until just before they start going black.
Then, the rest of the sauce (this tends to vary according to what we have handy):
Nick's Bolognaise
1 400g tin of diced tomatoes (2 if you don't have the home-grown ones, or completely home-grown if you have enough)
Approximately equal amount of oven-roasted tomatoes
1/4 cup tomato paste
1/2 red wine
Onion
Garlic
1kg beef mince
Mixed herbs
Salt & Pepper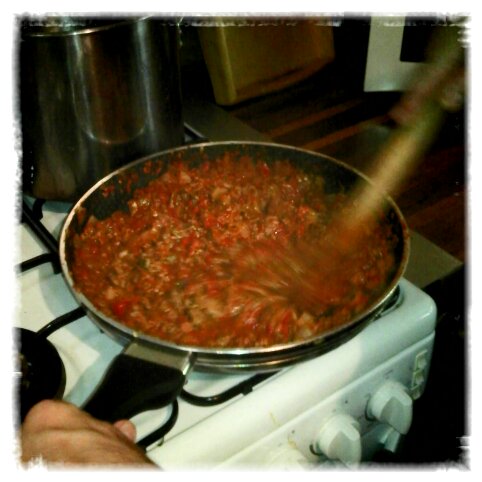 Pop it all in a pan and cook slowly over a low heat. As you probably know, the longer it cooks, the better it tastes!
Then, divvy it up into freezable containers. We got 4 meals worth (for both of us) out of that lot.
We got a pasta machine a while back, and I was feeling a hankering for fresh pasta (if you've never had it, it's about 10 times better than the stuff you buy dry at the store).
So, I made some dough, which is made from 500g plain flour and 5 eggs. Mix then knead into a firm dough, leave to rise for 1/2 hour, then it's ready to pasta-fy!
We usually go for fettuccine, both because we like it better, and because spaghetti is a pain to make in the machine. This is what we got from a 1/4 of that dough:
The rest was divided into three, Gladwrapped (plastic wrap, non-Aussies) and frozen for later use. I needed Nick's help with the cutting part of the process, it's really a 2-person job.
Then, leave the pasta to dry for 1/2 an hour or so, and you get this:
Chuck in a pot of boiling water for 2-5 minutes with a bit of salt and/or oil, and you're done! Be careful to keep a close eye on the pasta, it's easier to overcook it when it's fresh.
Oh, and don't forget the fresh-grated Parmesan. This meal probably took hours to make, and mere minutes to eat – but we've got most of it pre-made now for 3 more meals, so it's win-win, really!
Oh, and in case you're wondering what the yellow stuff is in the larger square tubs in the earlier photos – it's home-made chicken stock.
Mmm, tasty! Nick always saves chicken carcasses when we buy cooked chickens. He freezes them, then when he has a couple, he boils them up with carrot, leek, onion and celery to make tasty, tasty stock. Which he then uses to make soups and stews. We have a big chest freezer that we store it all in.
It sounds cliche that home-grown and home-made tastes better… but it really, really does. I'm lucky enough to have a husband who has the time and inclination to cook good healthy meals from scratch, and I thank my lucky stars for that at every meal, because left to my own devices, I exist on spiral pasta and bottled sauce!
***
Want more Epheriell-y goodness? Subscribe to Epheriell Designs! Also, you can follow me on  Twitter!