For all my twitter/fb/forum friends who have been asking – here is a little glimpse into my recent holiday! It's kinda crazy how fast it went by, but we fit a LOT into our time.
My holiday revolved around 4 things – food, cocktails, sunscreen and planes! Oh, and there was some reading, swimming, walking and some visits to spas in there, too.
In just under 2 weeks, my friend and travel-buddy Mish and I took 8 flights and stayed in 3 different places. We also got to know the Air Asia airport (otherwise known as the 'big shed') outside of Kuala Lumpur very, very well.
We spent a weekend in Singapore, 3 nights on Langkawi Island in Malaysia, and 5 nights at Ao Nang (near Krabi) in Thailand. It was the first time either of us had visited these parts of Asia, so it was an exciting trip!
Here are a few glimpses into our trip…
Singapore
Mish and I in Chinatown – we stayed at the awesome Wink Hostel here. The pod beds were awesome!
Singapore Bay, with the crazy ship-on-top-of-the-buildings on the left.
The Merlion!! I missed the history of this, but fell in love with it all the same.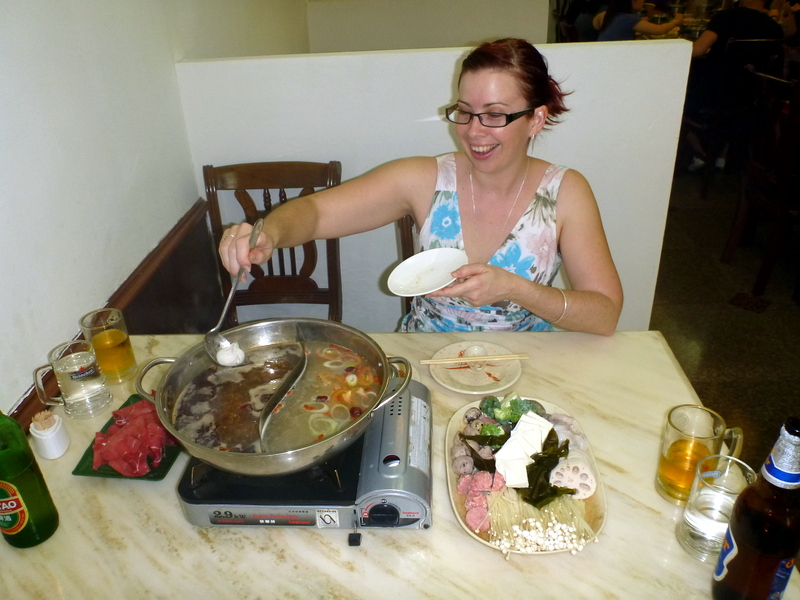 Steamboat Dinner – no, we didn't eat it all…
Part of a Lightshow around the Bay
 Totally fell in love with Singapore Slings – my new fave cocktail! We wore our fanciest travel clothes to visit Raffles Hotel.
Langkawi, Malaysia
The view from our room – we stayed at the Berjaya resort – definitely recommend it if you ever go to Langkawi.
The beach – you can see the first row of resort rooms in the distance
Sunset
There were lots more photos of Langkawi, but a lot of them include me in a bikini, and that's something I'm keeping off the interwebs ;D
Thailand
Cocktails in coconuts. The best thing about a cocktail in a coconut? Free dessert if you can be bothered to dig out the coconut meat. There were a lot of cocktails… This restaurant had the best view…
The beautiful water of Thailand – we took a day-trip on a speedboat.
Underwater Jazz Hands! (This is for you, Deborah!)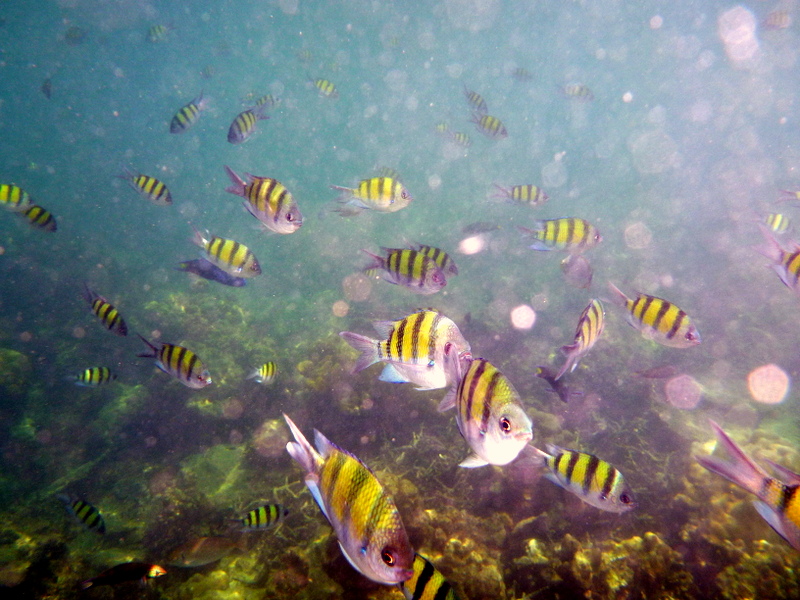 We had an underwater camera – it was so much fun!
Mish and I after a day of snorkelling – see, no sunburn! Sunscreen + UV protective shirt = win. We Aussies know how to stay pale if we want to. I think I may be 2 shades less than pasty white now.
Elephant rides – our elephant was over 70 years old – I felt a bit like the Queen of Sheba up there!
I got a henna tattoo of a hummingbird – my Dad was very relieved it wasn't real…
My first manicure – not much point of getting manicures when you're a silversmith – I enjoyed the pretty while it lasted.
The fish spa – a very strange experience!
Of course, there are about a zillion more photos, but I don't want to bore you senseless with endless photos slide-night style. Thailand was definitely my favourite – so gorgeous, and so ridiculously cheap! I'll be taking Nick back there with me sometime, for sure.
***
Want more Epheriell-y goodness? Subscribe to Epheriell Designs! Also, you can follow me on  Twitter!