Hi there lovely!
I'm guessing you're here because you've come across one of my products, and saw my little link about becoming an affiliate. So, what does that mean?
It simply means that when you recommend and share any of my digital products online, and use a special link, you'll get a cut of any sales I make – pretty sweet, yes?
It's my way of saying thank you for spreading the word about my work!
My only requirement to becoming an affiliate is that you buy a copy of the product you want to promote (at full price, please don't use your own affiliate link to purchase it). I ask this because I only want affiliates who have read and love a product to promote it. 
So, how do I sign up?
First, just follow this link to sign up as my affilate through e-junkie.
Make sure you get the product specific link for the thing you want to promote, as you'll earn more moulah that way 🙂
Here's some of the groovy stuff you can promote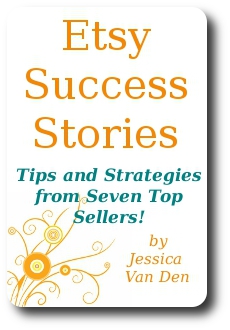 In this book I interview 7 Top Etsy Sellers to find out how they did it!
It also contains all the basic info you need to kick off with a fantastic Etsy store!
Having a thriving mailing list is crucial to the success of online business.
If you're just getting started, and want a no-fuss guide to getting the most out of your list, this is for you!
Get in touch!
I'm available for interviews and guest posts if you'd like to spread the word about one of my products on your blog.
Just e-mail me  – jessica AT epherielldesigns.com. Don't hesitate to get in touch if you have any questions – I want to help you in any way I can!