As I write this I can smell the gorgeous scent of the Yesterday, Today and Tomorrow flowers I have scattered around our little home in vases. It's a warm, sweet, heady fragrance – a little like night Jasmine or citrus blossom, if you've never had the pleasure.
Spring has definitely come knocking, and the Y,T,D bush down at the house is in full, riotous bloom.
It got me thinking – how happiness really does come down to the simple things. Honestly, every time I become aware of the flowers and their smell, it brings a little smile to my face. They say smell is the most powerful of the senses – though, due to some unknown reason, my sense of smell seems to be rather lacking compared to most people.
So it's especially lovely to actually be consistently reminded to become aware of that oft-ignored sense, and realise the emotional effect it can have on you. Not to mention, when I smell the flowers it draws my eyes over to them, so I get both the pleasure of the smell and the beauty of the sight of the white, mauve and purple flowers.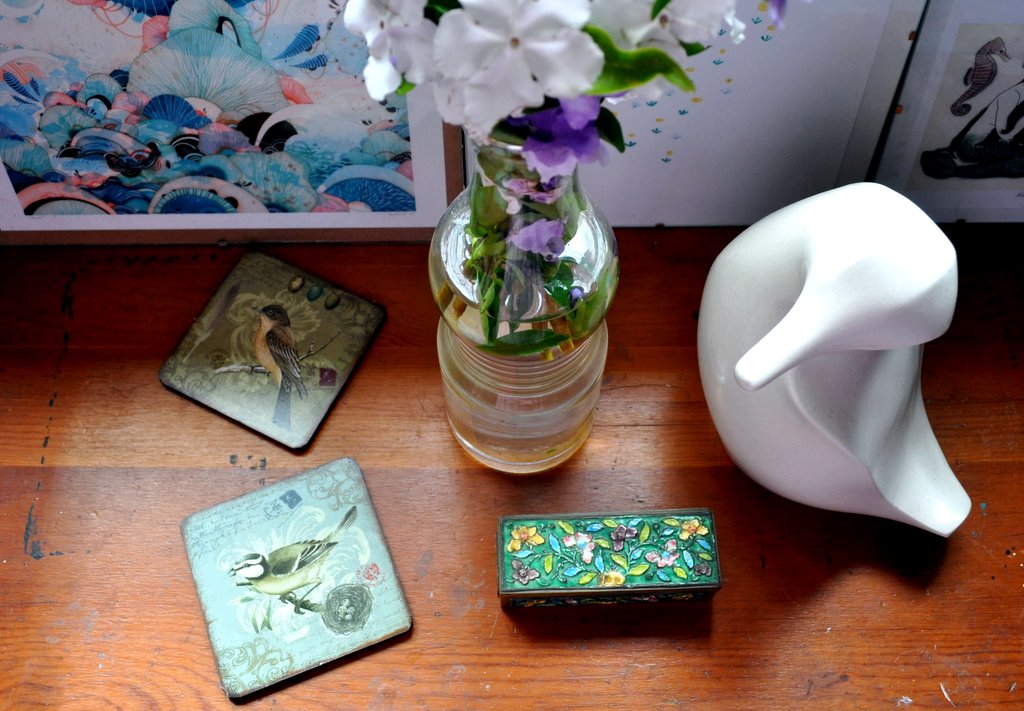 And this is just one of the little, tiny, seemingly inconsequential things that I am surrounded by – those little things.
Like realising my cat has eyes the exact colour of the grass he's sitting on.
Or that honey-sweet cup of tea handed to me by my love.
Or the pink sky over the trees and mountains at sunset.
Seeing the tiny little birds that live around here flit around, sing, and play together.
Or sitting at my desk and pausing for a moment – my face breaking into a huge smile – and realising that this really is my life now. I'm not waiting for a better time. I'm not waiting for anything to begin.
I'm living it in its perfect imperfection right now.
And I couldn't be happier.
All photos my moi.
***
Want more Epheriell-y goodness? Subscribe to Epheriell Designs! Also, you can follow me on  Twitter!