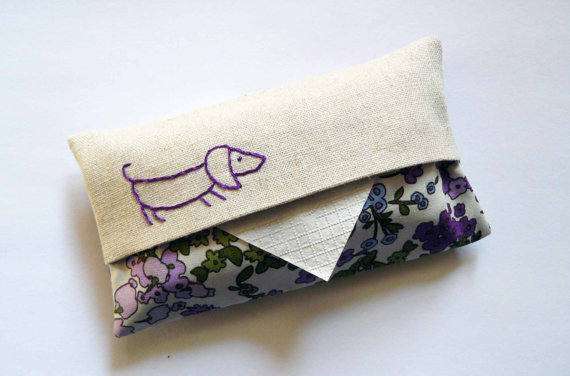 Why hello, Mister Cold, how nasty of you to stop by!
Yes, I have succumbed to the bug that's been floating around my family – first Mum, then Nick, now me – though thankfully Dad has been exempt ('cause getting a cold is the LAST thing he needs right now). So I've been working from bed, with my tissues and trusty Butter-Menthols by my side. As I type this, I am also enjoying a cup of Lemsip (I'm not the only one who actually enjoys drinking it, am I?).
I thought this gorgeous little tissue holder was an appropriate share for today. Handmade and embroidered by the lovely Rebecca (who I am lucky enough to know as she's a fellow BrisStylette) this little doxie-adorned pouch is perfect to keep your travel-tissues in. I bought one for a friend recently, and now I'm wishing I had one for myself, since I have to go out this evening…
You can see all of her tissue cosies here, and all her other hand-embroidered cuteness here in her shop, Edward & Lily.
***
Want more Epheriell-y goodness? Subscribe to Epheriell Designs! Also, you can follow me on Twitter!