This pair of Ampersand Studs represents my latest twitter collaboration – but it is by no means my first.
Collaborations – or custom commissions, if you prefer – are such a fun part of being a maker.
Sure, I love the designs I create on my own, but there's something extra-special about a design you make specifically for one individual! Sometimes these are complete one-offs – things that I wouldn't put into my shop afterwards – but sometimes, a customer gives you a brilliant idea for something you then incorporate into your permanent collection.
This collaboration between two people has never been easier than it is today with twitter, facebook, blogs, instagram and more making it super-easy to communicate back-and-forwards with our customers in real-time.
So – how do collaborations like this come about? And how can you encourage your customers to approach you with their ideas?
Let's start with question 1:
How do these collaborations work?
When I tweeted out my regular Ampersand Earrings one night, a few people tweeted back telling me they liked them.. @homelifecomau being one of those who got in touch!
I got chatting with them, and later on got a message from @HanDelaney, who is the editor of Homelife.com.au.
She tweeted:
I thought – what a fab idea!
No, I don't make any… yet. But that is just the sort of thing I can make, and that would make a great addition to my shop.
Now – this is the point where you have to stop and ask yourself – is the thing this person is requesting something that you could fold into your ongoing product line, or is it going to be a one-off just for them?

If the former is the case, you can continue on as I did – but if it's the latter, you want to make sure to do sketches, decide on scale/size and price AND GET PAID before you start your piece! When making a unique design, I never, ever begin work without full up-front payment.

This is simply good business sense. If it all falls through and you don't end up making the piece, you can refund the customer and no harm done. Don't fall into the beginner's trap of making the entire custom order with the assurance that the customer will buy afterwards. At least 1/2 the time they'll change their minds and pull out, and you'll be left with something you cannot sell on.

Okay, now lets move on to the situation I was in – where the idea is something you can include in your ongoing collection.
Hannah and I tweeted back and forth a bit – I asked her what size she was after, she tweeted back a photo of another pair of earrings around the size she wanted with a ruler next to it + measurements.
Then, I got creating! It didn't take me long to come up with a prototype pair of earrings, which I promptly photographed with my phone, Â Instagrammed and tweeted directly to Hannah.
Here's the prototype pair. You can see the mistake I made with the solder (the little lump on the bottom of the right pair). But hey, that's okay! This is just the practice run, to make sure the size and styling is right.
Once Hannah got back to me that she was happy with these, I sent her an invoice and all was golden! I made a proper pair, packed them up… and shipped them once she'd paid (another point where beginners sometimes lose out – don't post until you have full payment!).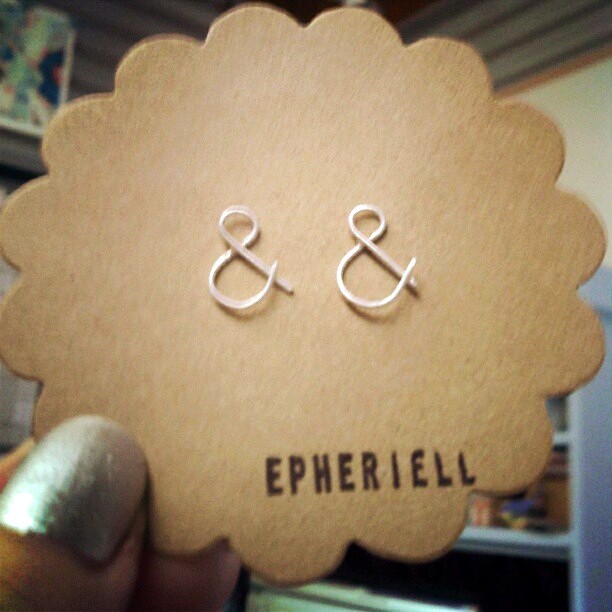 I haven't heard back from Hannah yet – I'm hoping her earrings arrived safe and she's happy with them!
The beauty of a collaboration like this is that not only does a new customer get exactly what she wants – I get a new design to add to my repertoire.

Win/Win, eh?
This isn't the first time a twitter collaboration has resulted in a piece that I've added to my permanent collection – here are a few others:
The Cloud Ring
The Nosering
How can You Encourage your Customers to Collaborate via Twitter and other Social Media?
The simplest way is to tell them! Put a message on facebook that you're happy to make custom pieces. Tweet it out. Share other custom work that you've done.
I write 'custom and wholesale orders welcome' on the bottom of all my Etsy listings, and make it clear on my website, too.
However, I think by far the most effective way to ensure people come to you – rather than someone else – when they're looking for a custom piece is to simply be approachable.
Be friendly, be available – and that way, I bet you'll find new friends – and get new customers, to boot.
***
Want more Epheriell-y goodness? Subscribe to Epheriell Designs! Also, you can follow me on  Twitter!