Welcome to my studio! Come in, come in (and please take your shoes off, it's the habit 'round these parts).
Today is the first in a new series where I'll take you 'behind the scenes' of my work and life to show you what the day-to-day of a jeweller/blogger/publisher is like!
Over the coming months I'll share photos and videos of my studio and my work – including my tools, me at work, my design/development process, packaging, organisation, and much more. If there's an aspect of my work that you'd like to know more about, don't hesitate to leave a suggestion in the comments!
Let's get started by having a poke around my studio – the place where it all happens! In this tour you'll see one-half of a room (that which you can see in the picture above) – this half is my studio, and the other half is our little kitchenette/lounge area. For those of you who don't already know, Nick and I currently live in 2 converted rooms in a barn on my parent's property in the country, and we have plans to eventually build our own house here. However, we're in no rush – it's surprising how little space you really need to live (and work!) comfortably.
My studio is filled with my own work, but also with the art and work of so many other wonderful makers and designers. I won't be able to name them all here, but I'll try to tell you about a few pieces!
Let's have a closer look at my jewellery work bench, where you can see I've got a ring in progress.
I bought this little collection of sweet ceramic dishes from Bleeding Heart Gallery – they're by local ceramicist Kim Aitken.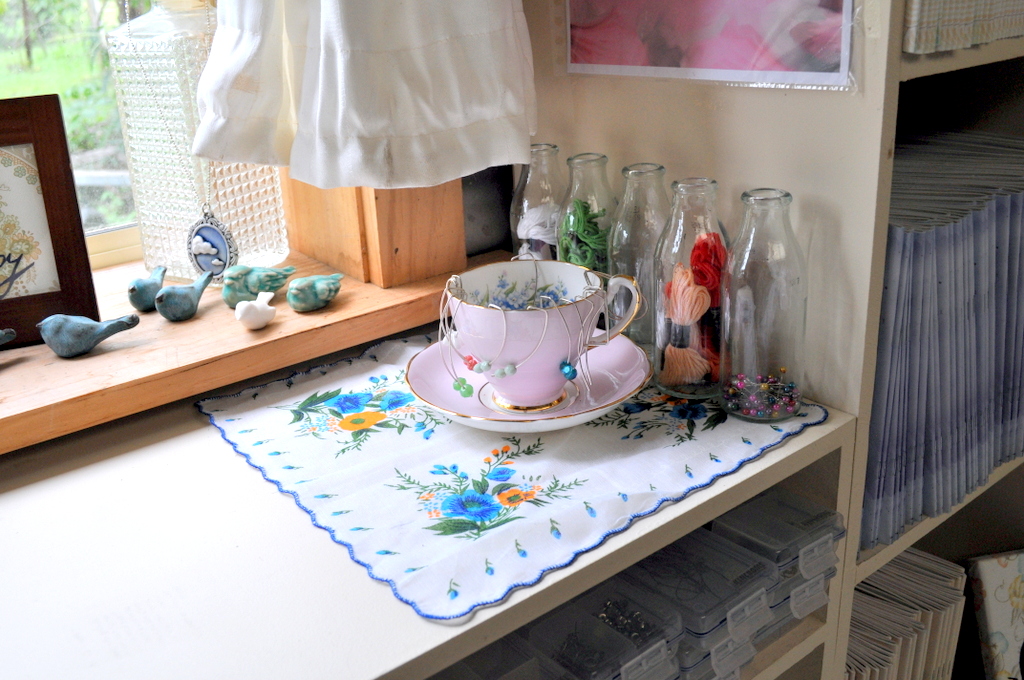 Here you can see my dress-form Evie hard at work helping me work on a new necklace design. You can also see a whole lot of *bespoke* – ready for easy packing access!
I originally bought this to give to a friend… but I fell in love with it and so I kept it!
A few of my teacup succulents haven't stood the test of time, but these ones are still going strong!
I bought this papercut from Trudy Florence at a market last year, where we discovered we were fellow Dutchies (I think both our Dad's are Dutch)… she's since moved to the Netherlands, and we've become online friends! The world is an awesome place.
It's one of my life mottos, so I couldn't pass it up.
Now we'll move around to my computer desk – the one Nick made for me. I love all the little nooks and crannies to store stuff in!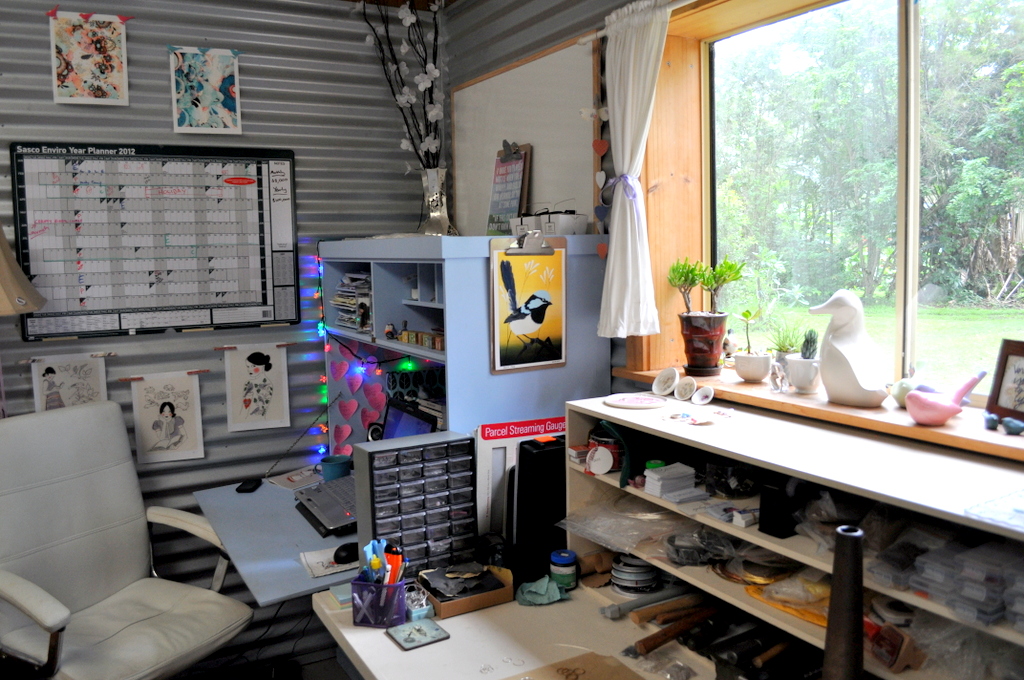 My trusty year planner… SO vital to keeping me on-track and organised! But it's kinda ugly, so I've surrounded it in Yellena and Matou en Peluche beauty.
I also have a brand-new super-sized desktop screen since this was taken, so my dear laptop is elsewhere. Ohh, can you see the proof for Issue 6 of *bespoke* there on the side of my desk?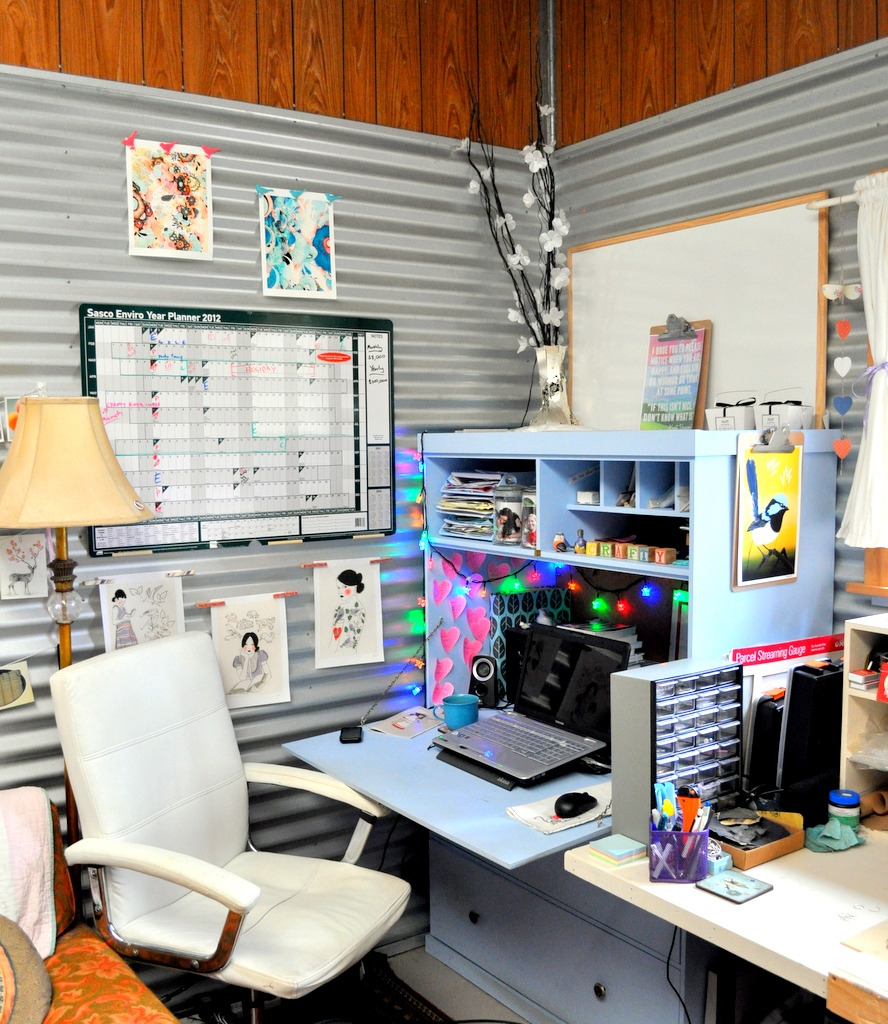 Finally, my little art wall above the couch. All postcards, cards and small prints I have collected, as well as a few fave frankie posters. And on the heirloom couch (inherited from my grandparents) is a heirloom tulip quilt made by my great-grandmother.
 And that's a wrap! You'll see much more of this as I do future posts (and you'll also see my soldering station outside). I hope you enjoyed this little tour around my space!
***
Want more Epheriell-y goodness? Subscribe to Epheriell Designs! Also, you can follow me on  Twitter!