Today we have the first guest post from July's Special Guest Blogger Elle Roberts of the Creative Business Co. Elle is passionate about the importance of business planning – something so many of us kinda leave to fall by the wayside. Check back each Friday to find out what she has to teach you about business planning!
I thought long and hard about what to write for this series of posts, and the topic I keep coming back to is business planning – I guess because that's what I do, and believe it or not – that's what I love.
My hope is by the end of the month, once you have read all four of my posts, you will feel a little better about the planning side of your business.
It is going to be a painless experience so please stick with me – in fact I am only going to ask you to answer 5 simple questions.
Let's get onto question one.
Why?
The question is simple – Why are you in business?
A majority of us are here because we love our craft and see a need or want to serve a specific market; but go a little deeper.
The catch to this simple question, ask why the way my three old asks why; contest your own answer.
When you arrive at your initial outcome, challenge it. Ask yourself WHY a second time; When you again arrive at what you think is a conclusion, ask why a third time, fourth time, fifth time.
You need to get to the core – to the deep underlying purpose behind what you do. It's not enough to say I want to make nice things. . .WHY?
To bring more colour into the world. Great, WHY?
This is the most important thing to establish before you begin to plan – the answer is going to dictate what defines success to you, what you really want to be achieving from your business and who your customers need to be.
All too often when people talk about business plans they start with the money, your assets, even your skill set – these are extremely important, don't get me wrong; however it is my view that these are secondary to establishing a purpose.
Work out your WHY then own it – be proud of what you are trying to achieve. Next post we will start to make plans to help you achieve your purpose!
Till next time…
P.S. from Jess: Stay tuned for another philanthropy post or two this evening and tomorrow – I couldn't fit it all into the week so I'm cheating and posting on the weekend, too ;D
***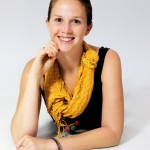 Elle is the marketing maven behind the Creative Business Co. where she educates creatives in the art of business.
She's running the Artful Business Conference in Brisbane on September 5th and 6th, featuring Tara Gentile, Megan Auman, Jennifer Lee, Jess Van Den, Lisa Walsh, and Russel Allert – get your tickets here!