Today we have a little interview with Coco Kulkarni – who has just recently started making bags! I have to say, I'm rather liking the whole 'bow' theme she's got going on…
I come from a family of professional artists but had never attempted anything creative myself until about 2 years ago when I discovered jewelry making. I've had a jewelry shop on Etsy since then and I'm having a lot of fun with it. I mean, who doesn't want to play around with beautiful beads all day! However, I don't think what I make is really 'art', not in the same way that a silversmith's work is.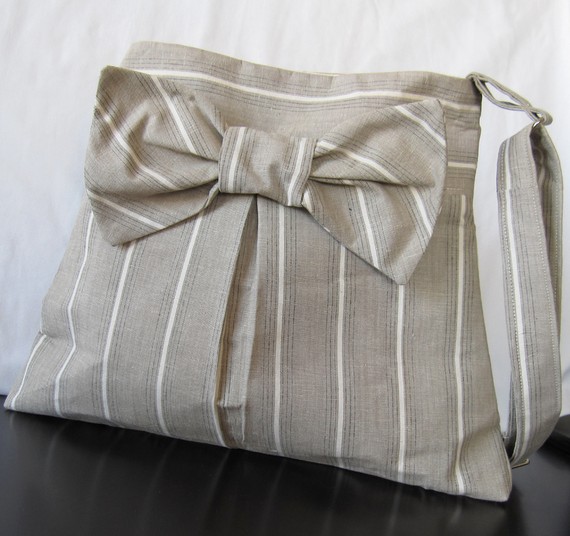 A couple of months ago I was itching to try another creative direction and since I adore fabrics and handbags, that seemed like an obvious choice. I've long been an admirer of so many talented handbag makers on Etsy, but I wanted to offer something a little different. So I dusted off my old sewing machine and set up my workshop on the kitchen table. (I'm still there today!)
I don't have designs in mind when I shop for fabric and I never work from patterns. I free cut all my bags directly on the fabric. The fabric and the prints dictate the style of the bag. As in my jewelry, I don't like to repeat designs, so I don't give names to my bags.
Bagmaking is truly a labor of love. It is painstaking work but the satisfaction of seeing the finished product far outweighs the time and effort it takes to make them. I love the smell of new fabric and the initial stages of trying to come up with a design. I also like to dress up my bags with scarves and belts. That adds such a nice feminine and finished touch to the bags and gives the buyer a chance to personalize with their own accessories.
Thanks Coco!
***
Want more Epheriell-y goodness? Subscribe to Epheriell Designs! Also, you can follow me on  Twitter!