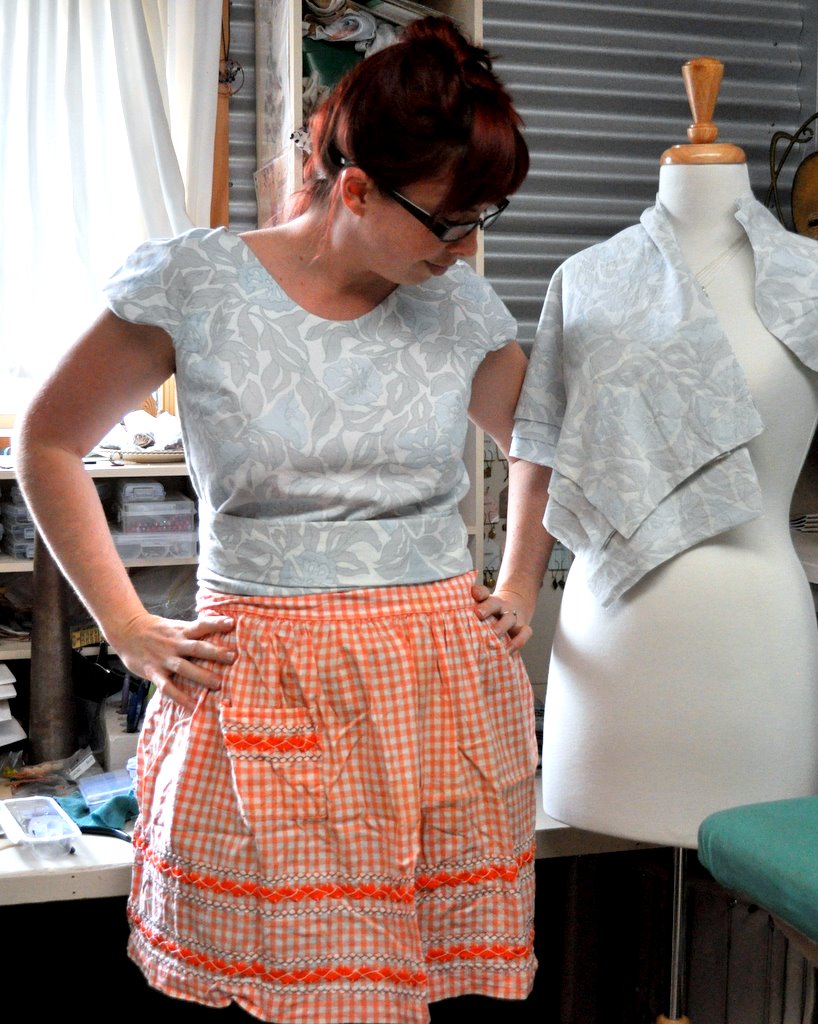 Today, people, was a historic day in The Life of Jess.
I SEWED MY FIRST EVER DRESS!!
Hurrah!
Here I am wearing the bodice – or top half – of the dress (with a vintage apron, ahem, I may have had trackies on under that…)
I am completely and utterly chuffed. It was a long process, and more complex than I initially imagined (and I kinda cheated by leaving the pockets out.. but hey, IT'S MY DRESS, and I didn't want pockets!). I was utterly amazed that I have managed to transform old op-shop sheets into a beautiful new thing – it's mercurial, truly.
Now, I can't WAIT to show you the whole dress… but I've decided to wait until I've reached $150 in Frocktober donations. So if you want to see it, help me out by donating to a great cause!
***
My Frocktober Pledge
I have a couple of pledges for Frocktober – which is an annual event to raise money for Ovarian Cancer Research:
Each day I will don a vintage or handmade dress, take a photo, and blog about it here on Epheriell Designs. Considering I'm travelling to Melbourne and Canberra to attend the Problogger Training Day AND attending one of my bestie's weddings, it's going to be a frocktabulous month, and I might even be able to drag some other ladies into the fray!
I am going to sew my very first dress!!! Yes, I am very, very excited about this – and terrified, too! I have the perfect pattern, the perfect fabric – and it's one of my goals for 2011. This is just the kick in the skirt that I need to get it done!
At the end of the month I'm going to auction off one of my vintage dress collection, and all the money raised will go into my pledge fund!
Want to know what Frocktober is all about?
***
Want more Epheriell-y goodness? Subscribe to Epheriell Designs! Also, you can follow me on  Twitter!