Yes, but how could I not! Since I was selling at the BrisStyle market on Saturday, and I then visited the Finders Keepers… well. It was inevitable, really! First, here's me and my stall – the first time I had *bespoke* out in public! I hand-embroidered the sign – it took many hours, but I think it was worth it.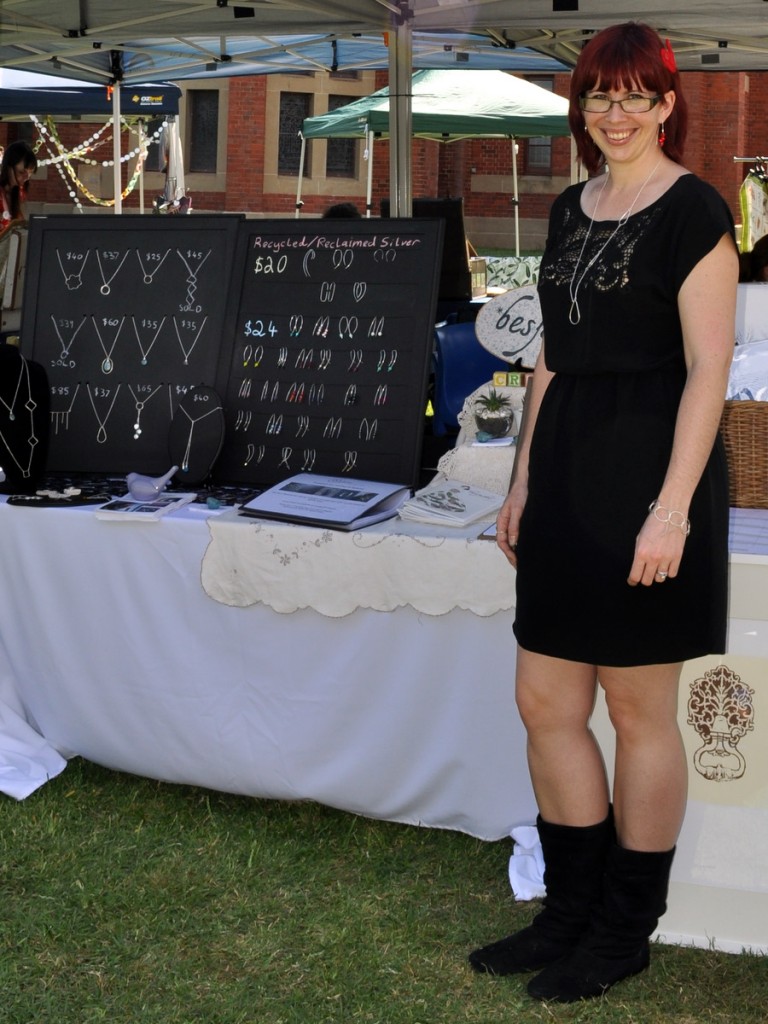 And there's the Epheriell part of the stall – with fab wooden display stands that Nick made for me, painted with blackboard paint. I also now have a lovely catalogue with all my designs for customers to flick through (thanks honey, yet again).
And now, for my haul…
Birdie hairclip and earrings from Good Boy Cracky – right near me at the BrisStyle market!
Oh yes, we all know I am. Both of these babies are from Pannikin.
This sweet, simple brooch is from… I can't remember!!! I neglected to take a business card. However, the lovely lady I bought it from happens to be a reader of this blog (I met her elsewhere at the FK market that day) so if you're reading, please remind me! (edit: Leah has kindly informed me it was from Red Seed Studio – thanks Leah!)
Squee!! Buttons from Penelope and Pip! When I bought these I was too busy chatting to Rach to look closely, and I thought they were badges – whoops! I'm sure I'll find something button-y to use them for one day!
Oh, but could I have spent about a squillion dollars? Yes, yes I could have. In fact, I picked up a few business cards of shops to revisit online, ahem… ;D
***
Want more Epheriell-y goodness? Subscribe to Epheriell Designs! Also, you can follow me on  Twitter!