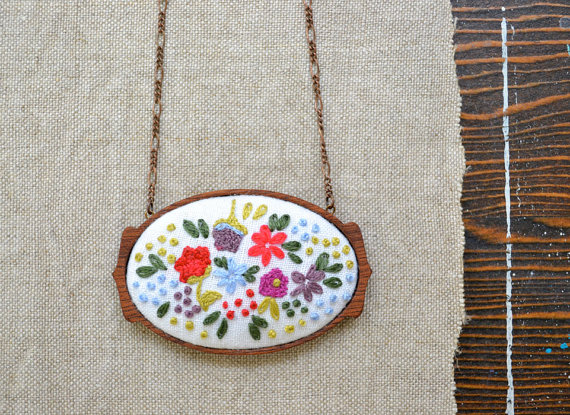 This is completely gorgeous. Hand-embroidered by Meghann Rader – a visual artist from Canada – this necklace ticks all my boxes. Colourful – check. Earthy – check. All the elements working together – check. Lovingly hand-crafted – check.
And it's OOAK, too… so if you like it, go here for a closer look.
And here for the rest of her gorgeous work, including some Pine Forest Treeline hand-painted pendants that I also love – they just scream NORTH-WEST USA/CANADA to me. When an image inspires my own memories of a place to come to life, I think it's pretty special. Though I do have a soft spot for the NW – I've been there twice and my mum grew up in Multnomah, Oregon.
Now, when are we going to Canada? Eh?
***
Want more Epheriell-y goodness? Subscribe to Epheriell Designs! Also, you can follow me on  Twitter!