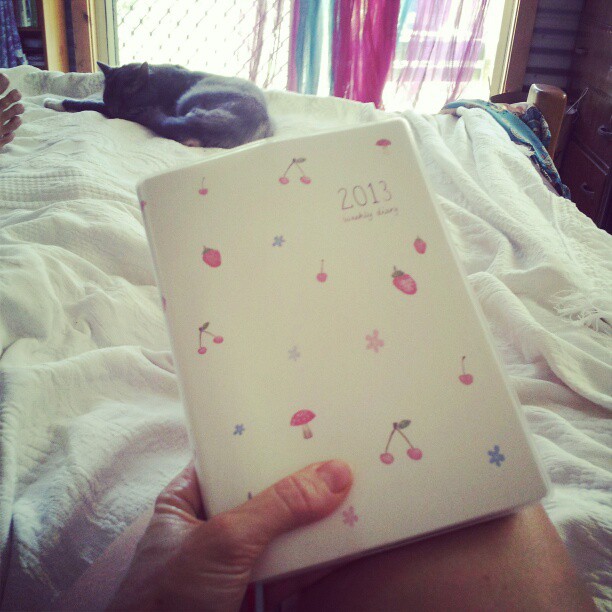 Why, hello there, 2013! I have plans for you… I wonder what you have planned for me?
And hello to you, lovely readers, welcome back for another year. This marks the 6th year I have been blogging away here on ED. Wow. I can't quite believe it's been that long! When I started back in 2008, I began this blog to simply share my journey learning new crafts.
It's come a very long way since then, but my love of learning new things – and especially new crafts! – has not left me yet. In fact, over the next few weeks, I'm going to be writing 3 posts about the 3 new crafts I tried this last week at the Woodford Folk Festival – Wheel Pottery, Nuno Felting and Traditional Russian Belt Weaving! I had an absolute blast trying out some new things, and I can't wait to share them with you.
Now I'm back to reality, though – and with a new year comes a bit of a fresh new look here on ED (pop on over for a peek if you're reading this in your RSS feed). With the upcoming launch of my new site comes a slight shift in direction over here. I won't be talking about crafty biz stuff on ED any more – that will all move over to the new site (don't worry, I'll tell you ALL about it when it's ready to roll!).
My plans for 2013 here on ED revolve around sharing my own work and processes, as well as featuring a swathe of beautiful and inspiring things – handmade goodness, art, design, style, food, etc. All the things that bring joy and inspiration to me, I'll be sharing with you. I'd like to get back into the habit of blogging here each weekday – I know I've missed that over the last few months, and I hope you have, too.
So, here's to a fabulous New Year – I hope you're filled with excitement for the year ahead like I am!
xx