Please give a big  welcome to my lovely friend Anastasia – this month's Special Guest Blogger! I've known Anastasia (or, as I call her, AC) for years now – she's a fellow Aussie crafter and Etsian. During September she's going to be sharing some gorgeous paper craft projects with you all – so enjoy!
Hi!! I'm Anastasia and I'm thrilled to be guest blogging this month showing you some quick and easy projects using paper bundles and paper scraps!
There is so much you can do with paper cuts offs – I have two box files full of great papers, one for Vintage papers and one for printed cardstock, only because I love paper and I tend to use small pieces in my paper good creations so nothing goes to waste at my house.
Today I'm going to show you how to make a batch of 'Dotty Love' Notecards – so simple and a fun project to make with a little one too!
What you need:
* a bundle of papers
* Card stock ( approx. A4 size ) – thick and sturdy is best. Any colour will work, look around to see what you have on hand.
* 1 inch Circle punch
* Glue stick
* Paper cutter or scissors
* Bakers Twine or cotton string
* Bone Scorer (optional)
First thing you need to do is punch out some circles from your papers. Small hand punches are inexpensive and can be found at Craft shops or stores like Kmart or Spotlight.
Punch out a variety of papers, I used neutrals black and white and aged text and images (old Encyclopedia pages, pattern pages) and some pretty prints in shades of blues and greens.
You can use colours that compliment or go crazy and Mix it up!!
Next step is to trim your card stock, we need to have a rectangle approx. 20cm x 30cm.
I love using recycled Kraft paper as my base because I love the look and feel of it but any card stock will do nicely.
Fold your card stock in half lengthwise and using a bone scorer or your fingers press down firmly to create a fold.
Scatter your punched circles on one side of the folded cardstock.
Once you are happy with the layout you have created, glue the circles in place using your glue stick.
Now it's time to cut out your notecards. I use a paper cutter but craft scissors are fine too.
I cut my paper in 7cm strips and this way I got 4 notecards (20cm x 7cm).
Fold in half and add some bakers twine for decoration.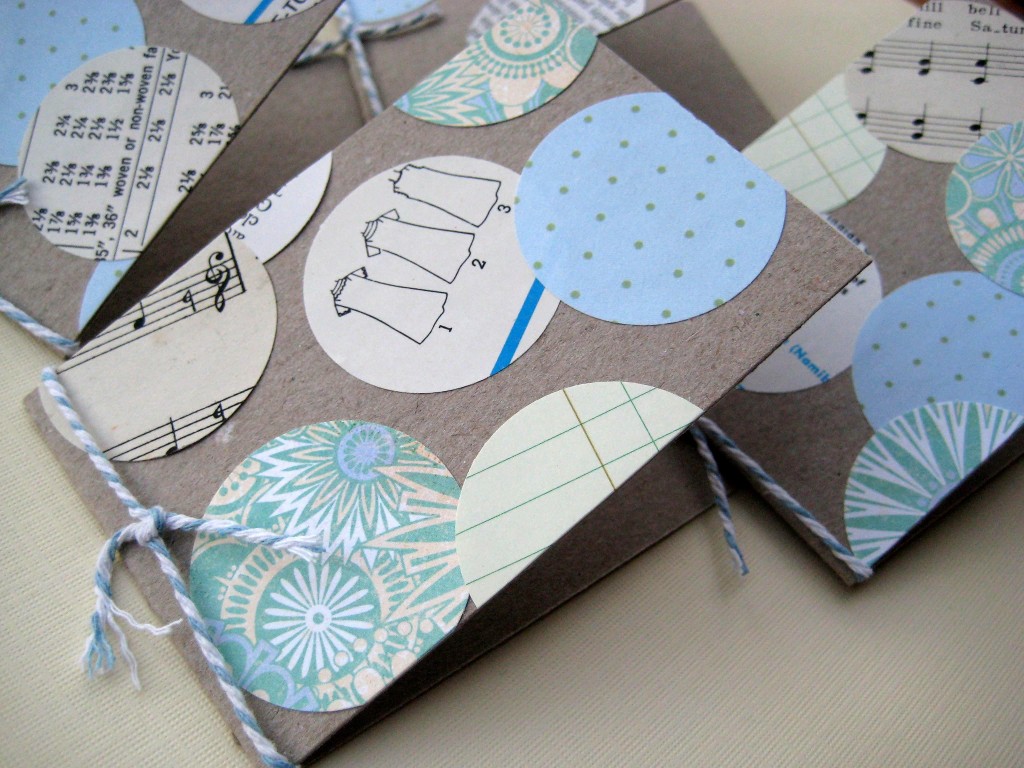 That's it! So easy, I do hope you'll give it a go!
***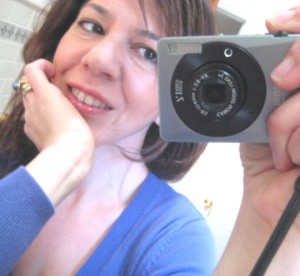 I'm Anastasia from Sydney! I am a blogger who loves to share inspirations, colour and visual beauty!
I enjoy making things by hand and I have an Etsy shop 'Percival Road Designs' where I offer some of my paper goods, crafty supplies and paper ephemera.
Life is always busy but I always manage to find time to be creative.
I also love to bake, draw, drink tea and day dream….