Please give a big  welcome to my lovely friend Anastasia – this month's Special Guest Blogger! I've known Anastasia (or, as I call her, AC) for years now – she's a fellow Aussie crafter and Etsian. During September she's going to be sharing some gorgeous paper craft projects with you all – so enjoy!
Hi!! Its Anastasia here again and today I'm going share how to make some lovely paper tags using found and vintage papers
What you need:
* Vintage papers – I used music sheets, poetry, vintage plant book pages, general text pages
* Card stock cut into 6cm x 9cm cards. I cut out 6 for this project
* Acrylic paint and a small brush – I used lilac and white paint
* Glue stick
* Scissors
* Vintage postage stamps (optional)
* Cotton string
There are two steps to making these Gift tags and the first step involves a little paint. If you haven't played with paint since primary school don't worry, we only need a teeny tiny bit but make sure you protect your work surface from getting messy.
In a small bowl mix a tiny blob of paint with lots of water.
We will be painting vertical stripes on our Text paper and need the paint translucent so that the text still shows through. You can paint your stripes as thin or as thick as you like. Once you have done that repeat with your white paint in the alternate stripe so you have one stripe of shade and one stripe of white paint.
I then blot the page with a paper towel to take some of the paint off to ensure the text is still visible and that the paint is a very thin coat.
An alternative is to splatter the paper with paint so make sure your paint is very runny (lots of water) and shake your brush over the text paper – lots of fun!
Leave to dry.
Once the pages are dry cut them in horizontal strips approx. 5cm in width.
Using craft scissors I cut the top edge in a scallop pattern.
You will need six of these.
Next step is to trim some of your found papers so that you can glue them onto your 6cm x 9cm cardstock.
Trim excess paper.
Now you will line up the painted text paper that we just made above, to the bottom of your card stock.
Glue down and trim edges.
Add a vintage stamp if you want to add some more detail.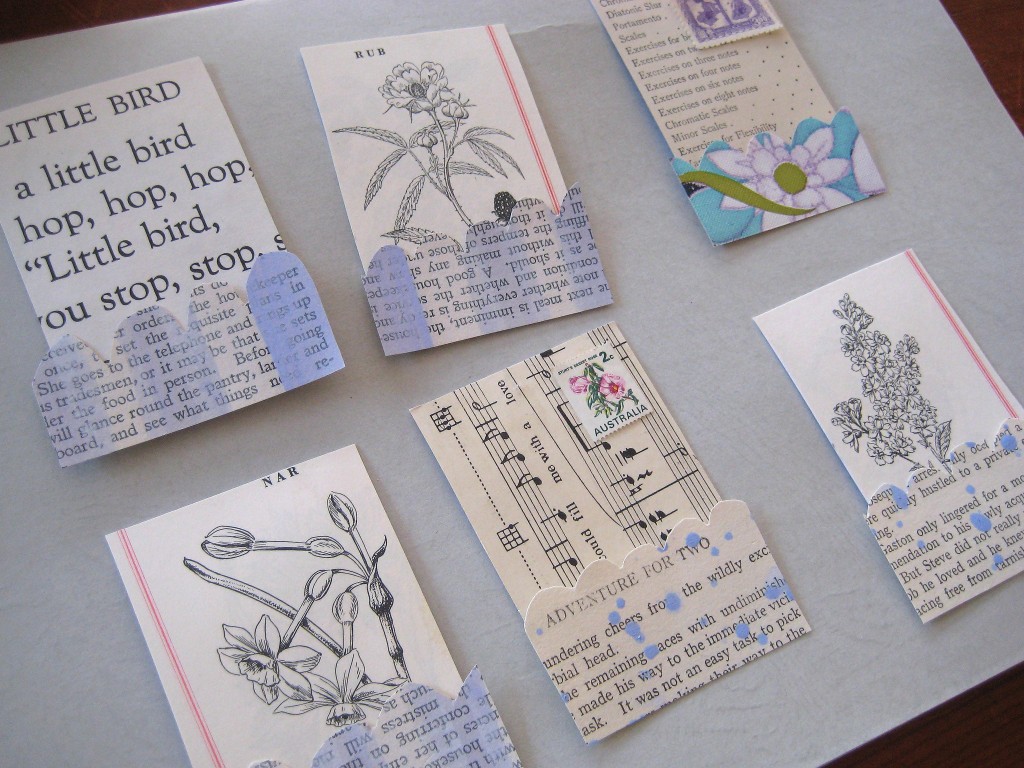 Punch a small hole and thread your cotton string and your Gift tags are ready!
I do hope you'll give it a go!
***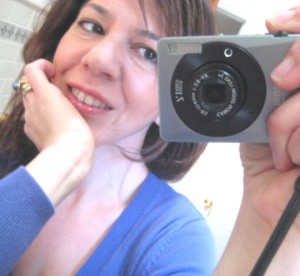 I'm Anastasia from Sydney! I am a blogger who loves to share inspirations, colour and visual beauty!
I enjoy making things by hand and I have an Etsy shop 'Percival Road Designs' where I offer some of my paper goods, crafty supplies and paper ephemera.
Life is always busy but I always manage to find time to be creative.
I also love to bake, draw, drink tea and day dream….