It's Jess's 3rd birthday blog party and a girl needs a pretty party dress to celebrate properly. Right? Right!
I also love to play dress-up and thought this was a great opportunity to pick out a vintage outfit for Jess!
Jess loves her full skirted 1950s dresses and I think she'll look super lovely in this Nelly Don floral and chevron striped beauty. The pleated skirt and pattern will look wonderful swirling about on the dance floor.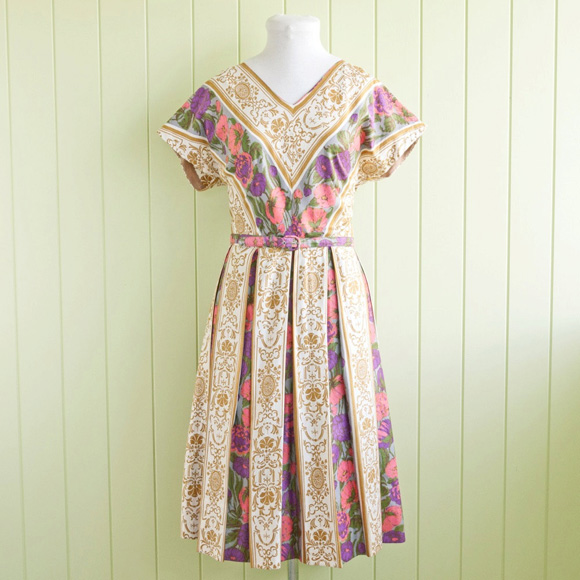 We all know an outfit doesn't finish at just the dress and I think this petite 1940s purse and strappy pair of 1970s heels coordinate nicely.

Now… if you're anything like me… you'll be thinking that perhaps Jess needs one last piece to complete her party outfit. What piece? Why, a brooch, of course! This beautiful 1930s brooch adds the perfect finishing touch to Jess's outfit.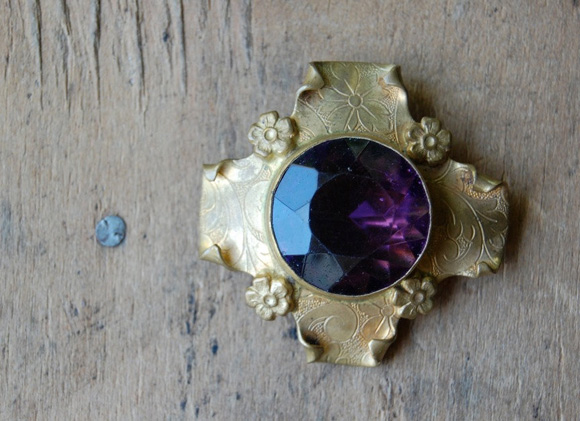 What do you think? Do you think Jess will look fabulous in her vintage blog party outfit? I do!
Outfit details:
1950s floral dress by Bess Georgette
1940s purse by Atherton's Vintage
1970s heels by Verseau Vintage
1930s brooch by Jean Jean Vintage
Teresa is a tea drinking, skirt wearing, graphic designer who runs the online vintage store, Bess Georgette. You can find her rambling about all things vintage and pretty on her blog and on twitter.
***
Want more Epheriell-y goodness? Subscribe to Epheriell Designs! Also, you can follow me on  Twitter!