Hello all!
I'm currently sitting in my Brother-in-Law's house in Victoria, Canada, after a whirlwind few days in New York City. We arrived in Canada Monday evening, and we've been recovering from our manic 4 days in NYC since then.
There's SO much I want to share with you about our NYC trip, so I thought I'd start out with my Top 20 Highlights of the trip – in no particular order. I've broken these up into 2 posts, I'm hoping to have the second one done tomorrow for you.
I'm also planning to share a quirky shopper's guide to SoHo, and a few shop feature posts, because man, there was just so much goodness there!
Let's dive in to the first 10 of my top 20…
1. Etsy HQ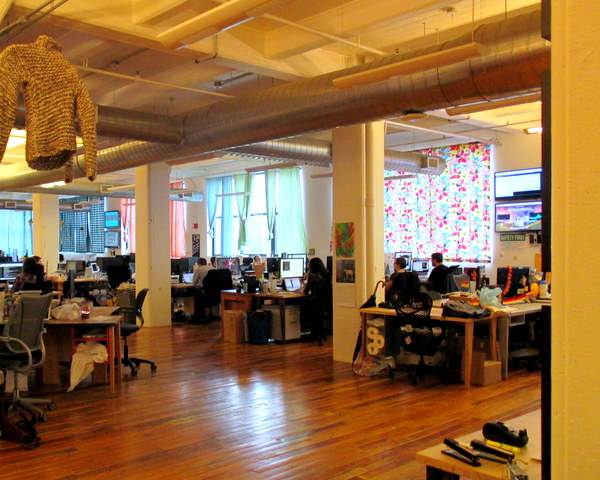 I was lucky enough to be able to visit Etsy HQ with my friend Megan Auman. We had a great time chatting to Rand, one of the Etsy staff who are working on the new Wholesale feature!
The Etsy offices are, as you might expect, rather awesome. Full of art, craft, and dogs! A very chilled out, yet hard-working vibe was happening.
2. SoHo
A coffee and a VERY tasty gluten-free brownie were how I started my first day in SoHo. We stayed less than a 10 minute walk from SoHo, so I visited a few times.
SoHo was definitely my fave browsing/shopping district – though, of course, I didn't get to many of them! Shops like Jonathan Adler, Purl Soho, Loopy Mango, Evolution, The Frye Company, Anthropologie, The MoMA Design Store, Orla Kierly, Kate Spade and more have homes here. I will be posting more about this!
3. Central Park
Central Park really is an oasis in the crazy metropolis that is NYC. New York is loud, smelly, and FULL of people.
Walking into Central Park, you feel immediately relaxed and relieved – especially for country folk like us who are not used to being in a big city.
It's still pretty busy in there, but it's a lot more laid back than the main streets of the city, and there is so much space to just walk, or lay down on the grass (when it's not wet)… and there are SQUIRRELS!! Yes, I have the foreigner's obsession with the fluffy squirrely things. They're just so darn cute!
4. Staten Island Ferry
I was quite amazed at the number of cool things you can do in NYC for free. The Staten Island Ferry is a must-do free activity, for sure!
Don't be put off by the massive crowd of people waiting for the ferry when you get to the terminal – the ferry is HUGE and will fit you all on there!
If you want to see the Statue of Liberty for free, this is the way to do it. It's around a half-hour ride, and when you get to Staten Island, you can just get off and get right back on to take the ferry back to Manhattan.
If you've never seen Liberty before, be prepared, she is MUCH smaller than she looks in movies and on postcards! But still impressive and worth a visit.
5. Walking Broadway/Fifth Avenue
Another fabulous free thing to do is just walk up Broadway and Fifth Avenue. Broadway is Downtown, and you can switch over to Fifth when you hit Madison Square Park on your way Uptown.
You'll get to soak in the city, and get views of some of the most famous buildings, like The Flatiron, The Empire State, The New York Public Library and even a glimpse of the Chrysler Building.
Just make sure you have some REALLY comfy shoes and a few hours to spare, it's a long way!
6. Times Square
I wouldn't say I *enjoyed* Times Square, but it is a must-see for the sheer scale of the advertising glut. These photos were all taken at night – the light you see is purely from all the ads – it lights up like an eerie red/blue daytime there at night.
You'll also find a stack of people dressed up as various cartoon characters etc running around trying to get you to pose with them and tip them 🙂
7. BBQ Block Party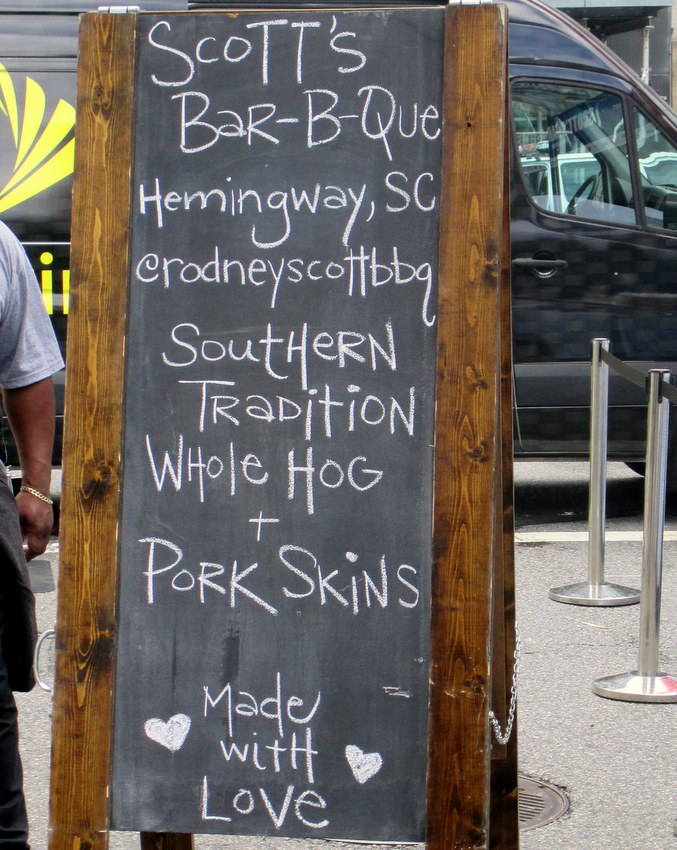 This was a happy accident! I'm sure there are festivals on every weekend in NYC, but we found out about this one when looking up a BBQ restaurant we wanted to visit, only to find it was closed to take part in the festival.
And what a tasty, tasty festival it was. It was in Madison Square Park, and the BBQ stalls were all 'round it on 3 sides. We tried some pork in a bun, as well as these most delicious ribs – they must be the best I've ever had!
8. Walking the Brooklyn Bridge
Our first 2 days in Manhattan were kinda grey and rainy, but we were blessed with beautiful weather on our last 2 days! We decided to walk over the Brooklyn Bridge on one of them, and I'd definitely recommend it.
A lovely walk, with beautiful views back over the city – and when you reach Brooklyn you can either look around, or hop on a subway train right  back to the city.
9. The High Line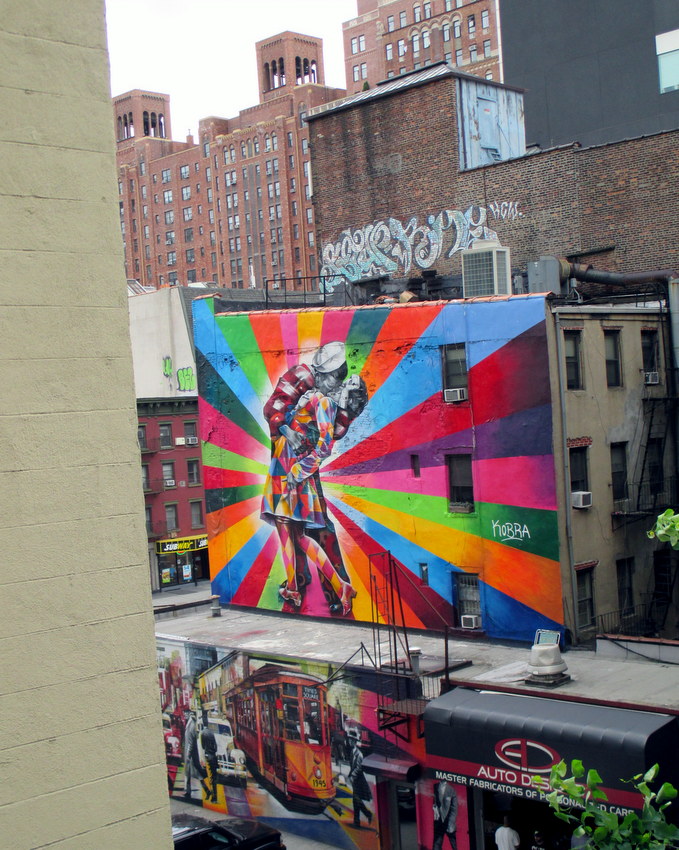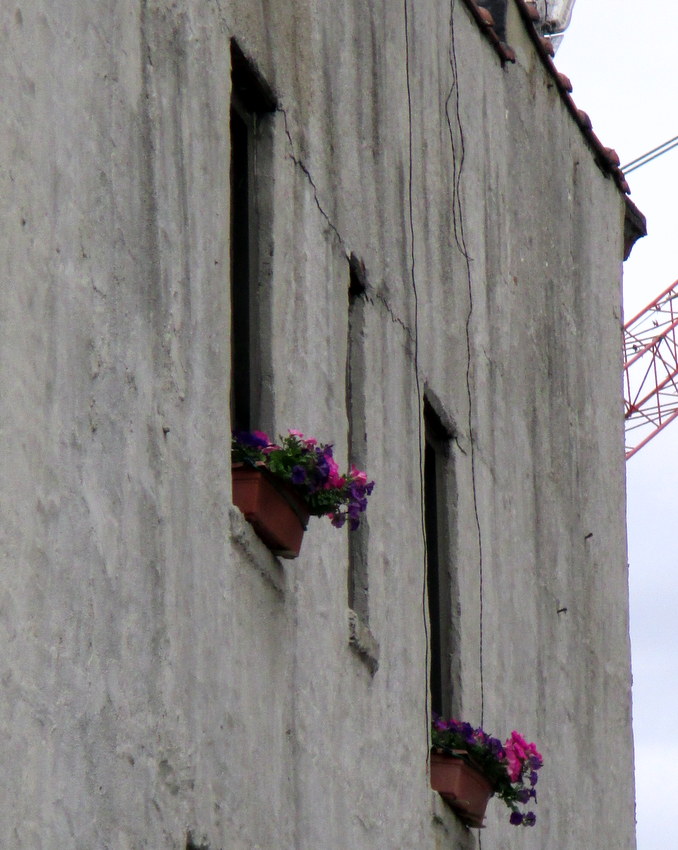 The High Line is a MUST-do if you visit NYC. It's just such a unique and amazing place, and it doesn't take too long to walk the length of it.
It's a park above the city built on old railway tracks that used to service the area. Now, it's full of greenery, places to sit and relax, and awesome views and public artworks.
They're still extending it now, so I can't wait to visit it again next time I'm in New York. Also – the Chelsea Markets are at one end of it, so it makes a nice 1-2 combo of iconic places to visit.
10. An American Diner
One of my favourite things about America that we just don't have at home is the traditional diner. I wasn't sure that we'd find one in NYC, but we did!
This one was on a corner in Tribeca, and we splurged with some disgustingly good/bad diner food for breakfast one morning. Hash, eggs, bacon, french toast, and maple syrup. Also, some grape jelly, which we don't get at home! This kept us fueled up for the rest of the day, I can tell you.
So!
There's my first 10 highlights of our time in NYC. Keep an eye out for the next 10 very soon, as well as a few other posts!
In the meantime, you can follow along with what we're doing each day over on Instagram. See you there!