One of my favourite parts of attending the recent Woodford Folk Festival was the huge array of creative workshops that were on offer. The Festival has a whole section devoted solely to hands-on creativity – called Artisania – and man, did I feel excited like a kid trying to choose subjects at school when there were too many good ones to choose from and only so much time (did I just expose myself as a total nerd there?).
I ended up registering for 3 workshops (that was all I could manage without the workshops clashing with other things going on – not to mention half of them were sold out by half-way through the first day of the festival!!) – I did classes in Wheel Pottery, Traditional Russian Belt Weaving… and Nuno Felting. I'll be blogging about all three classes over the coming weeks, but I wanted to kick off with the delightfulness that was nuno felting.
The class began with us receiving a little goody bag of materials – a hand-dyed skein of wool and a silk scarf. We also had our not-so-sexy materials – a big swathe of bubble-wrap, a towel, and a spray bottle full of soapy water.
How beautiful is this wool, by the way? I just wanted to rub my face in it (I didn't). All our wool was hand-dyed by our teacher, Julie.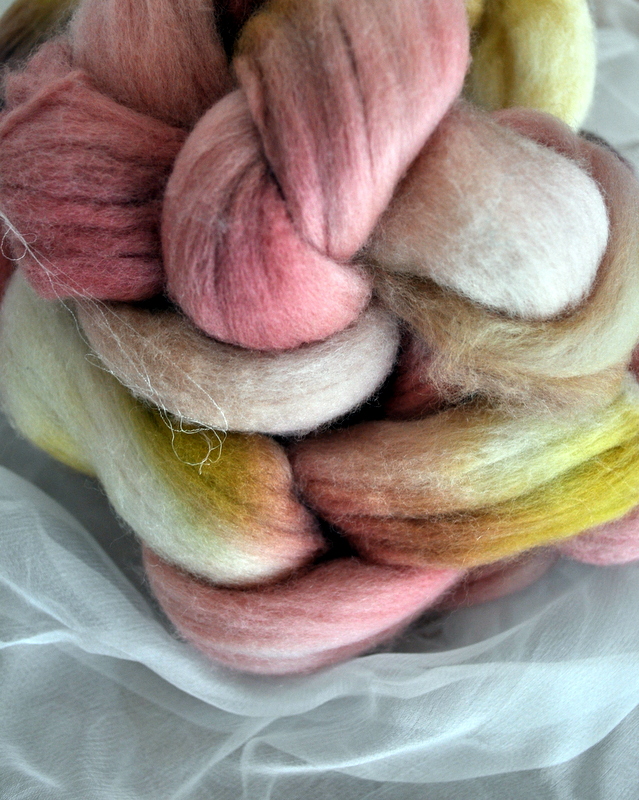 Julie Armfield of The Mountain Spinnery was our teacher for the day – she did a fabulous job of keeping everyone on track and answering all our questions… and putting up with those of us who were the Speedy Gonzales' of the class and practically hopping from foot to foot waiting to see what the next step was.
Because, let me tell you, there were a LOT of steps. It was a three-hour workshop and even though I was one of the first finished, it took me nearly the entire three hours to get my scarf done.
The first step was, of course, to lay out our scarf and start teasing out bits of wool to begin our designs.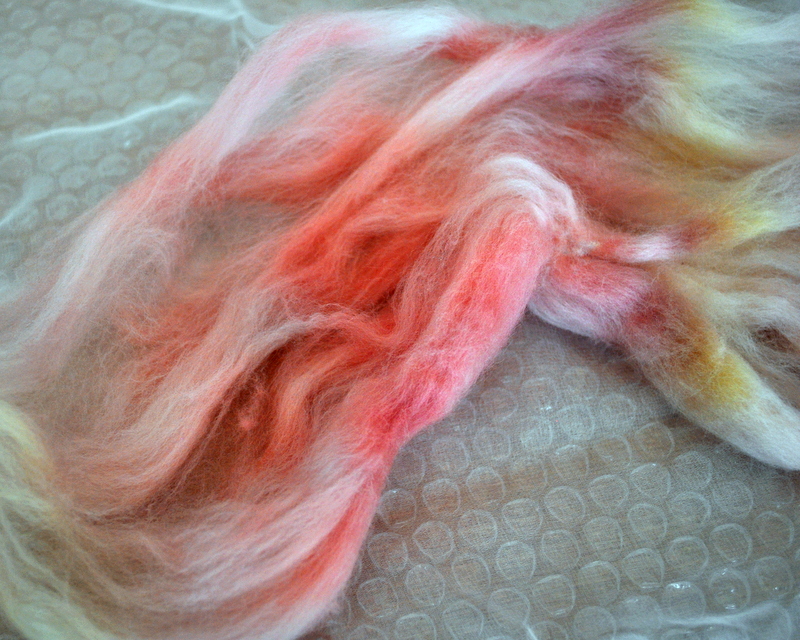 Happily, there was a huge tub full of embellishments that we all got to choose from to jazz up our designs – I grabbed some gorgeous deep blue silk 'hankies' (super-fine squares of silk) as well as some other bits and pieces.
I learnt that the trick with using non-wool embellishments in nuno felting is that you need to cover them in a very fine layer of wool – they call it 'felter's glue' – in order to hold them down to the scarf. Silk obviously does not felt to silk, so all non-wool pieces needed a layer of wool above and below them to hold them on.
I decided to make a couple of blue flowers to add a bit of bright colour to my scarf…
One of the most fascinating things about taking a class like this is seeing what everyone else comes up with. We all start with similar materials, but the scope of designs was fabulous!
After I laid out my design, it was time to begin the felting process. The first step is to wet down the whole design with soapy water.
When it is sufficiently damp (but not too wet) it's time to put a layer of Glad Wrap (plastic wrap) over the top of the whole design. Then, you begin to massage across the top of the Glad Wrap gently. You have to spray the top of the wrap with the soapy water so your hands glide over it and don't pull on it – which would disturb the design beneath.
You go over the whole scarf – massaging the design gently to get the fibres to start felting together – numerous times. First gently, then more firmly as the process kicks in.
Then, it's time to roll! The whole shebang gets wrapped around a piece of pool noodle, and you roll it back and forwards many, many, many times – unwrapping and re-wrapping in order to make sure you're felting both ends evenly.
After that, it's time to throw your scarf around. This step was kinda scary – up to this point you have been treating it oh-so-gently… but now it's time to pick it up and drop it on the table… throw it from hand to hand… scrunch it up and stretch it… all to finally ensure the felting has fully taken, and to give the silk a crinkly appearance.
Finally… the finished scarf! You need to rinse it out to remove the soap, and hang it up to dry. Here's mine (the one on the right).
And here it is once it was dry and ready to wear! I love how the ends came out.
I had a blast at this workshop – I've always wanted to try nuno felting, and I enjoyed it so much. Definitely something I'd like to try again one day.
Have you ever nuno felted?
___________________________________
My time at the festival was thanks to Tourism Queensland and the Woodford Folk Festival.