Hi everyone!  Its Anastasia here again and this week we are going to take inspiration from all the wonderful quilters out there and make some 'Paper quilt' greeting cards using our paper scraps.
This is a great project as it involves being creative in matching up colours and prints, something I love so don't be afraid to mix and match!
What you need
* Paper scraps in different colours and prints
* Card stock 10cm x 14cm – have a few pieces on hand.  Any colour is fine as this will be covered with our paper quilting.
* Thick White Card stock for your cards – if you have pre-scored plain Greeting cards,  perfect! If not,  just cut out 15.5cm x 22cm white cardstock and fold in half to make an
15.5cm x 11cm card.
* Paper cutter or scissors and a ruler
* Double sided tape
* Stickers or cute images (optional)
Step one is to prepare your Greeting cards – cut out required cardstock, fold to form your Greeting cards and leave to the side for later.
Then we cut out our other cardstock pieces and these will be used as templates and as a base to decorate with our paper quilting.
I have created two patterns, one is based on 'Log cabin' quilt style and the other is a simple 'Subway tile' pattern.
Log Cabin style
I used 5 different colours/prints of paper.
For this pattern I cut out:  one strip 2cm wide x 14cm long, one strip 2cm x 8cm,  two strips of different colours in 1cm x 12cm strips.  Three papers in 4cm x 5cm and one print in 1.5cm x 5cm
You can have a look at Log Cabin patterns online to see different layouts as there are so many patterns out there.
I found double sided tape works better than glue in this project as you might need some time to get your layout right and the glue will dry out very fast.  What I do is have two pieces of cardstock on hand – I lay out my patterns on the one piece of cardstock and I prepare my other piece of cardstock with double sided tape.  Cover it entirely with tape and this will ensure it really sticks!
I then move piece by piece of paper from one cardstock to the sticky cardstock, slowly and surely copying the pattern I've already created.
Trim any excess paper and then add more double sided tape to the underside of your paper quilt.
Stick it onto your prepared Greeting card leaving a border all around.
Subway Tile pattern
IÂ  used 3 or 4 different colours/prints of paper for this project.
I cut out my papers in 2.5cm x 5cm rectangles so about 4 rectangles of each printed print.
Again, using two pieces of cardstock, I lay out my pattern on one and prepare my other piece with the double sided tape.
With the subway tile I start at the top of my cardstock piece and place my first rectangle in the middle of the top and then add other papers side by side.  The next line I add the first rectangle paper in the middle of the joints and again add paper on either side until I create my subway tile pattern.
I then slowly do the same thing one by one onto my sticky cardstock.
Trim any excess paper and add more double sided tape to the underside and stick onto your Greeting card.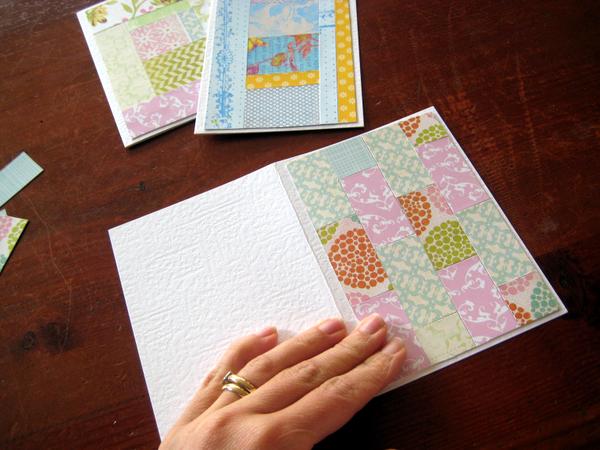 Your cards are ready!  Easy right??
Another option is to add some pretty stickers or a sweet vintage image like I did!
Hugs
Anastasia x
***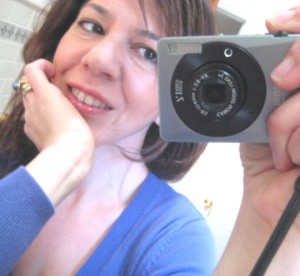 I'm Anastasia from Sydney! I am a blogger who loves to share inspirations, colour and visual beauty!
I enjoy making things by hand and I have an Etsy shop 'Percival Road Designs' where I offer some of my paper goods, crafty supplies and paper ephemera.
Life is always busy but I always manage to find time to be creative.
I also love to bake, draw, drink tea and day dream….