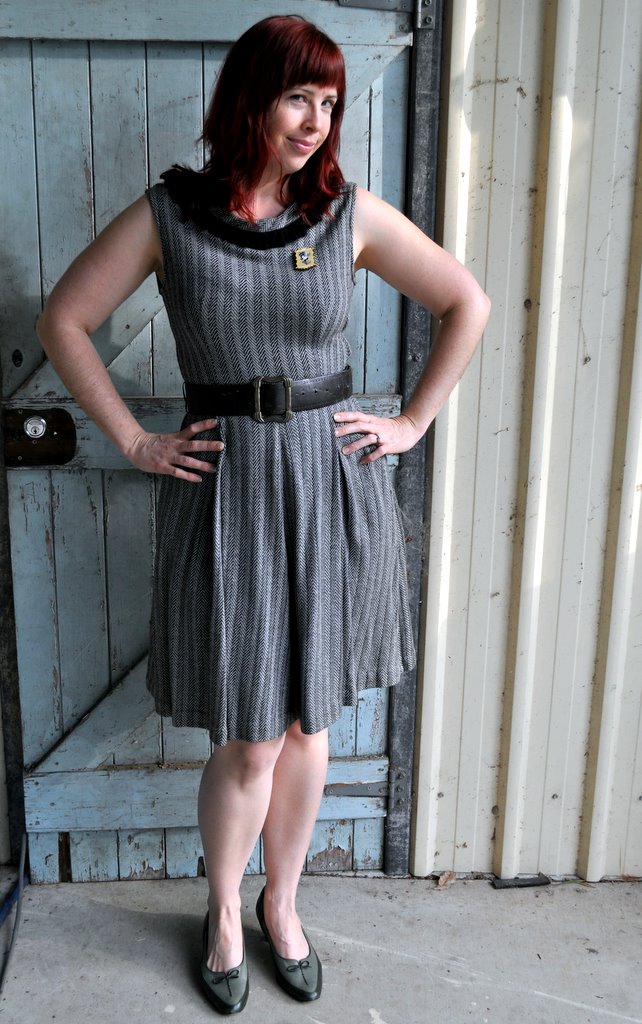 It was a little cool again this afternoon when I went to get my photo done, so I decided to break out this new-to-me winter-style dress that I got recently from Bess Georgette!
The belt was a total fluke – I was looking madly for a belt that would go with this, as I seem to have a black-coloured-belt-gap in my wardrobe (must rectify this next time I go op-shopping!) but this was down the bottom of the closet. I cannot remember for the life of me where it's from, and I don't remember wearing it before!
Anyways, it was just what the dress needed, and paired with my vintage shoes and cute little cameo brooch from Vintette, I was ready to go!
If you're enjoying my Frocktober posts, I would really, really appreciate a donation to help fight Ovarian Cancer xx
***
My Frocktober Pledge
I have a couple of pledges for Frocktober – which is an annual event to raise money for Ovarian Cancer Research:
Each day I will don a vintage or handmade dress, take a photo, and blog about it here on Epheriell Designs. Considering I'm travelling to Melbourne and Canberra to attend the Problogger Training Day AND attending one of my bestie's weddings, it's going to be a frocktabulous month, and I might even be able to drag some other ladies into the fray!
I am going to sew my very first dress!!! Yes, I am very, very excited about this – and terrified, too! I have the perfect pattern, the perfect fabric – and it's one of my goals for 2011. This is just the kick in the skirt that I need to get it done!
At the end of the month I'm going to auction off one of my vintage dress collection, and all the money raised will go into my pledge fund!
Want to know what Frocktober is all about?
***
Want more Epheriell-y goodness? Subscribe to Epheriell Designs! Also, you can follow me on  Twitter!