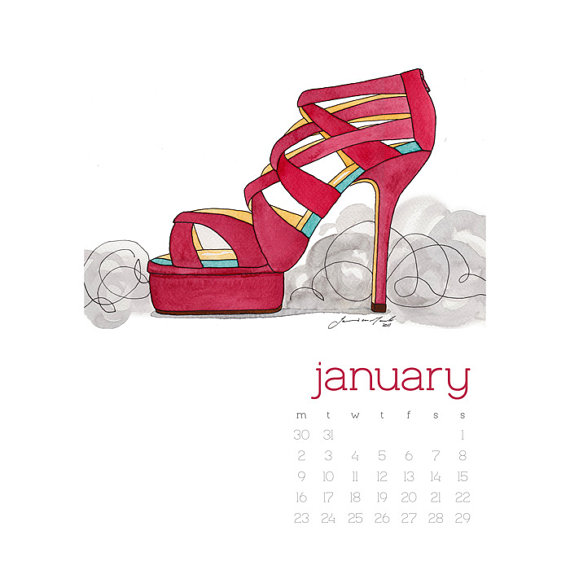 Who wants to win a cute little 2012 calendar?
Well, you're in luck, because my friend Jessica Mack, who does fashion illustration under the label Illustrateur, has offered you a chance to win one of her 2012 calendars!
Her Calendar features 12 fashion illustrations originally created using watercolor and ink.
Each calendar is made up of loose A5 (8.3 x 5.8 in) sheets which can easily be stuck to a pin-board, refrigerator, wall, framed, etc. (I don't know about you, but I'd love to get my hands on the November and December shoes in real life!)
How to Enter
Simply leave a comment below, telling us which month's illustration you like the most!
To get bonus entries:
If you are an Epheriell Designs blog or mailing list subscriber, leave a comment saying so for 1 entry.
If you tweet this out, you get 1 entry – just make sure to @jessvanden in your tweet, and put the hashtag #EDgiveaway
If you mention this giveaway on Facebook and @Epheriell AND @IllustrateurOnline, you get 1 entry (you must 'like' the Epheriell and Illustrateur facebook pages to be able to @ us on there.)
The winner will be chosen randomly next Monday (26th of December, 2011) using Random.org.
I will do another blog post next week announcing the winner, and I will contact you directly. PLEASE leave me a way to contact you in your comment – otherwise your prize will be passed onto another winner.
Good luck! xx
P.S. if you haven't already, you might like to check out today's 2 other 2012 calendar round-up posts – here and here.
P.P.S. if you don't want to wait and see if you win, you can grab this calendar for 10% off with the code christmas in Jess' shop!
***
Want more Epheriell-y goodness? Subscribe to Epheriell Designs! Also, you can follow me on  Twitter!