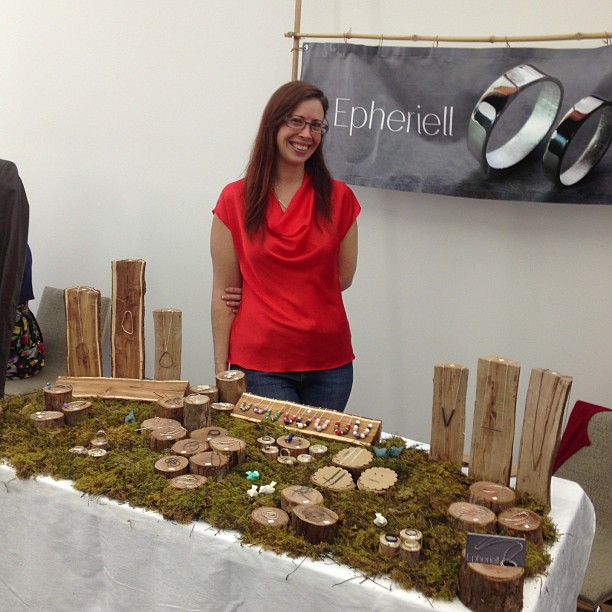 So, this Saturday gone, I was lucky enough to be a marketeer at the inaugural BrisStyle City Hall Market. The above photo of me at my stall was taken by the lovely Helen from BrisStyle.
Here are a few more shots of my set-up – you can see a number of new designs that will be part of the Yin/Yang Collection…
I have to say a HUGE thanks to Nick for being the maker behind most of the stall design elements. He made all the wooden rounds and half-logs to my design, and he also threw the banner stand together on Friday arvo when I realised I didn't have a way to hold it up, as we can't stick anything to the walls in City Hall.
Kudos to Mr Clever!
Also, a huge thanks to everyone who came by – quite a number of my local Set Up Shop students visit – it was so great to chat to you all about how your businesses are going! I also had a number of lovely return customers who've bought from me online previously… as well as a whole lot of new customers, too. It was such a lovely vibe – we were indoors, in a fancy carpeted room, with live music… sweet!
At this stage, I'm hoping to do these markets regularly starting in August (I'll be away for the June/July ones) so you all know that there's a place where you can come and see me and new designs each month. It'll also be great if you're planning on buying my wedding bands, as I'll have samples to try on, and I can size your finger for you, too!
So, let's have a peek at some of the other goodness that was at the market, shall we? First, here's a pic of the lovely Chrissy Foreman C wearing her new Epheriell ring – Pyrite and Sterling Silver. She said of this 'I tried it on, and it picked me'. 🙂
Next we have the beautiful work of Clare from Zillpa. She handmakes these amazing rope baskets using her industrial sewing machine. I'm especially digging her new designs with fabric incorporated that you can see on the left.
Next, I spotted these gorgeous Core brooches – love the embroidery ones!
My lovely mate Kirsten of Each to Own debuted these beautiful necklaces. They're made from vintage wallpaper!
Also, I couldn't pass up these gorgeous prints from Chrissy, who was my market neighbour – aren't they beautiful? All her work is so bright and positive and colourful!
Our final score was this funky piece by Mason Sinclair – this one was for Nick!
I was also over-the-moon to finally see the re-constructed original Shingle Inn – a Brisbane icon and full of wonderful memories for me. I spent a LOT of time in the original Shingle Inn during Uni, it was my quiet place to escape to in the city. So, when I walked in and saw this…
…I was overcome with happiness! It looks just like it used to, though you now walk in from the side, rather from the bottom like you used to. I couldn't pass up getting a goodie. Enter the BIGGEST melting moment I have ever seen. And eaten. Well. I ate half. Nick had the other half!
So, long story short – next time you're in the city on the 2nd Saturday of any month, make sure to come in to City Hall and visit the BrisStyle Market – after a stop at Shingle Inn, perhaps. You won't regret it!
And I'll be there every month from August on 🙂
P.S. a lot of folk don't know this, but on Saturdays you can park underneath King George Square for just $12… for the whole day!!!