If there's one thing I've learnt after 4 years running my business, it's that there is ALWAYS room for improvement.
It might be great-big-massive overhaul type improvement, like when you implement a new bookkeeping system, or create a brand-new website.
But, I think little, teeny-tiny steps are important too – as long as they don't bog you down and prevent you from making real progress!
I think these new photos I've just taken of my classic Nested Necklace are a great example. I've been selling this necklace since at least 2009, and it's consistently been one of my most popular necklace designs.
I love this design, and I can never see myself retiring it.
However, when I made one earlier in the week, I was reminded – yet again – that I wasn't 100% happy with the photos of it I had in my store.
Add to that the fact that with my new buffing machine, I can polish the pendant on this necklace up to a high shine like never before, and I quickly whipped out my camera to take some shots of it.
Just for comparison, here is the main photo that has been in my shop for years now, followed by some more of the new photos…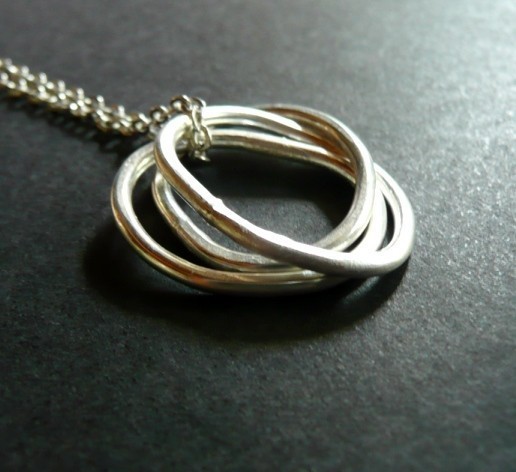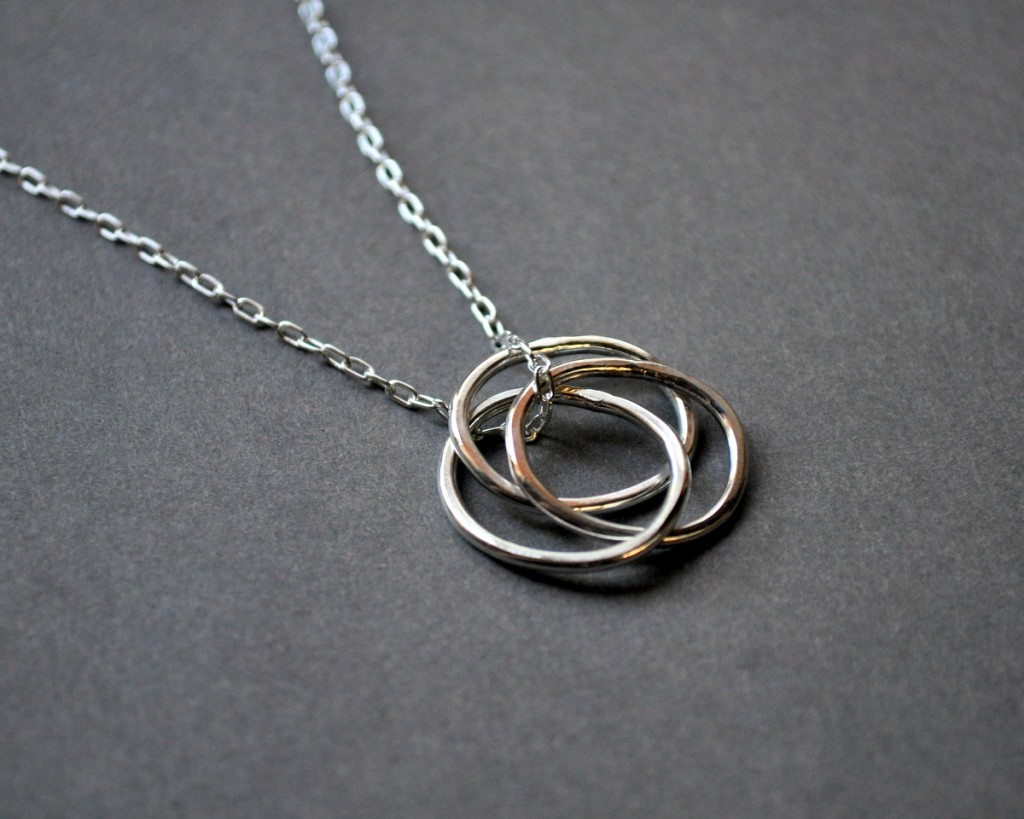 I think there are a few things that make these new photos THAT much better than the old.
1. I've used my Digital SLR on the macro setting rather than my old point-and-click – you can see that in the depth of focus and the clarity of the shot
2. The lighting is better, as is the background. I took these photos on a windowsill in clear natural indirect light – my favourite spot for jewellery photos. And that grey background that features heavily in my photos? A piece of scrapbook paper. That is my secret weapon for backgrounds – the sheets are nice and big, and you can get so many different colours and textures.
3. The angles are better – I've got a better range of angles and also better arrangement of the piece this time around that show it off and bring up the shine and contrast.
Obviously, my making skill has improved, too, and that shows. As much as I love the high shine, I've still left a little rustic touch by not cleaning up the solder overmuch. I like the little bit of texture that gives the piece.
I'm super-pleased with these new shots, and have updated my major shops with the new photos already. It's amazing how a new set of photos can breathe life into an old design!
By chipping away at these tiny little tasks every day, I'm improving my business – little by little.
***
Want more Epheriell-y goodness? Subscribe to Epheriell Designs! Also, you can follow me on Twitter!