Hello lovelies! Today I got Nick to take a few snaps of me in the Blue Roses dress that was peeking out from under my Teal Jacket last week.
I also wanted to show you the gorgeous Pierre Fontaine shoes I found at the op shop recently – as well as show you some of the new Vintette jewellery I've been working on.
The shoes were a great find – they were in perfect condition apart from the heels – I just had to get them re-capped and now they're good as new!
The earrings I'm wearing are one of six new designs made from laser-cut, sustainably harvested wood from Wisconsin in the US. There are hearts and flower/clouds – each pair comes in three different possible shades.
I've also started introducing some limited edition, wooden, laser-cut skeleton key necklaces! Each one is limited to 2 or 3 per design.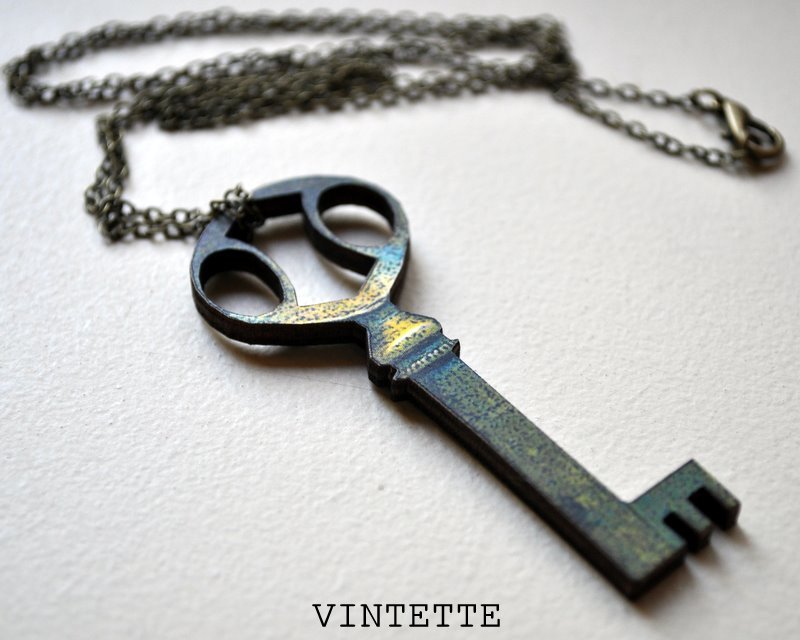 They are the start of a HUGE range of new laser-cut necklaces and brooches that I'll be releasing over the coming months.
Every single one will be limited-edition. I'll let you know what I've added each week here on the blog, so you don't miss out on something you love!
And, just because he snapped me sweeping – a rare event… I shall share my Cinderella moment… (no, I do NOT do any housework dressed up like a 1950s housewife, heels are a bitch to sweep in – especially when you're already a tall lady!).
Outfit Details
Dress ~ Vintage, from Q's Daydream
Shoes ~ Thrifted
Jewellery ~ Vintette
P.S. I'm also launching a new Epheriell mini-collection later this week – so if you're not already on the mailing list, make sure you are – I'll be sending an exclusive discount code to subscribers!
 ***
Want more Epheriell-y goodness? Subscribe to Epheriell Designs! Also, you can follow me on  Twitter!