Saturday dawned a bright and beautiful Summer day here in Brisbane. After farewelling our lovely houseguests (the crazy beautiful Manda + her hub) I made my way up to the city to be a Market Angel at the BrisStyle Indie Designer's Market at Hamilton.
Days like this remind me why I am so lucky to be part of such an amazing group of creative people. I spent a few hours wandering around, helping out by womaning stalls so people could go get lunch/coffee/have bathroom breaks… and, of course, I couldn't resist doing some shopping, too!
There is nothing sweeter than buying beautiful things from people you know and love, and I bought my fair share this weekend. Some of these pieces are destined for gifts… but let's be honest, most of it is just for me ;D I thought I'd share my little haul with you all today, and maybe introduce you to some Brisbane creatives you haven't heard of yet.
Let's kick off with 2 of my fave creative peeps – Jon and Jules from Sconnie and Jam. I've known them for a few years now, and often see them at talks I give. I've seen them go from just having a dream for their business to making it come to life – and it makes me so happy to see people living their dreams! I love both this print and brooch from them – I mean, how could I resist that brooch?  A pretty girl, antlers and bunting, it's got it all!
Of course I got chatting to the irrepressible Kirsten from Each to Own for a while – woman, you never fail to crack me up! These lotus earrings caught my eye straight away – I adore the pink/purple hues.
I couldn't pass up this tiny sweet birdie dish from Raw Ceramics. If you've been reading for a while, you know about my slight ceramic bird obsession. I really should do a post on that one day, shouldn't I?
*adds it to the list*
You really must check out Freda's shop – she makes some gorgeous and retro-styled ceramic homewares!
I have a total weakness for scented candles, and this French Pear scent from Green Me Up Granny had me drooling… seriously, I wish smell-o-net existed so you could get a whiff. Delicious.
If you want bright, fun homewares, then Cat&Vee are the ladies to see. Along with lots of other things, they have a range of singsongs – teatowels with song lyrics on them. Mostly 80s. Love.
Another fine perveyor of funky tea towels, this one from My Wooden Heart is destined to be a gift. You know who you are, recipient!
When I spotted Chrissy Foreman C's new cushion covers on Facebook recently, I knew I had to make one mine – and I did! And because it looks much better in-situ, and I don't have a cushion for it yet, here's a shot from Chrissy's online shop:
Gorgeous, no?
This dress by Kitty Boo Boo caught my eye – I've wanted one of her dresses for aaaages, and finally decided on this one! What can I say, I'm a sucker for pink.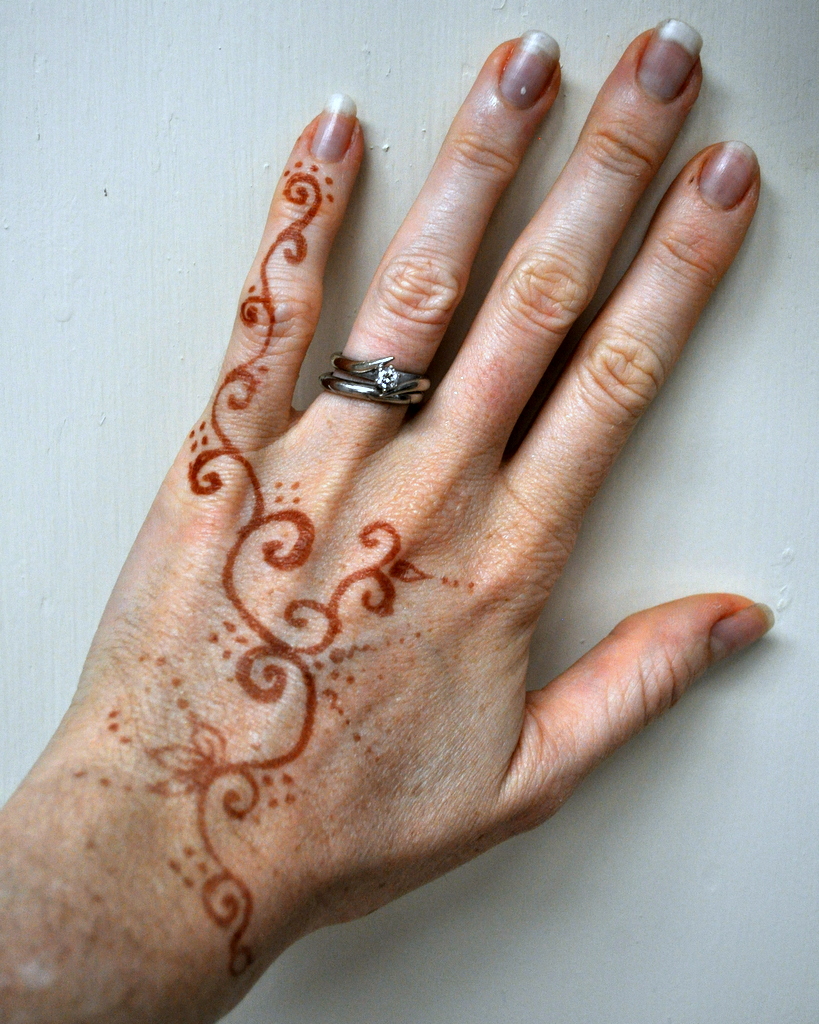 Finally, something I have ALWAYS wanted – a henna tattoo! This was thanks to the ladies at Kazuri Tribe. The best type of tattoo for me, because I don't think I could ever commit to inking something on my body for the rest of my life. Though I am considering a very small 'tempus fugit' tattoo one day… we'll see if I still want it a year from now and who knows, perhaps it will happen!
It was such a gorgeous day… and if you're in Brissie, you've got one more chance to see many of these folks in market-mode – we've got the final BrisStyle Indie Twilight market for the year on in King George Square this Friday – 4pm to 9pm. I'll be there, flitting around in Market Angel mode. Come say hi (and do some last-minute Christmas shopping, too)!